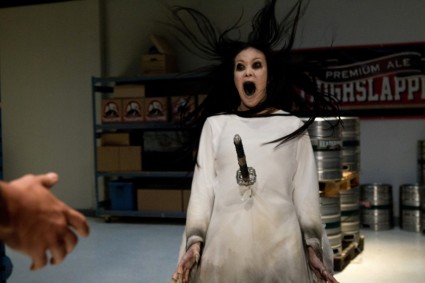 "I mean, can you even get drunk anymore? It's kind of like drinking a vitamin for you, right?" – Sam to Dean
In the words of Keith, "Japanese monsters are freakin' creepy." The Ring, The Grudge, he's seen them all and said that this episode did them justice. A quality way to pay homage to a niche genre. Yeah, yeah, yeah … but did you see Bobby!?
When the flask emitted some EMFs, I knew we were going to get a little more about Bobby's ghost, but I didn't expect that we'd actually see him tonight. His appearance, though, brings us more questions than answers. We figured Bobby was helping out the boys (in fact, Keith and I were wondering last episode how many times ghost Bobby had said "Idjits" while getting Sam and Dean out of bind after bind) , that much we knew. But I'm wondering about a million things right now, some of which include:
Why can Bobby control his ghost-ness enough to help out the boys when they need it, but not be able to appear to them when they ask?
Why can Sam and Dean see other ghosts but not Bobby?
Why haven't Sam and Dean just burned the flask?
Why did it take Garth to test the EMFs on Bobby's flask? Sam thinks of a talking board, but not that?
I loved that they went back through all the clues that Bobby was haunting them, Sixth Sense style. But what's it all mean? I hope that Bobby' reappearance will somehow connect to the greater storyarc, and make the leviathan storyline relevant. Or, that it somehow elevates the theme of the series — that hunters always eventually die, that they die sooner than later, that everyone Sam and Dean touch dies, and that they can only rely on themselves and each other, that humanity will win out and that fighting the good fight will have some meaning. I can imagine Bobby's death and ghost-ness being poignantly connected to all of this, if done right.
What do you think? How will Bobby's ghostly reappearance fit into the greater scheme of things?
Photo Credit: Jack Rowand/The CW