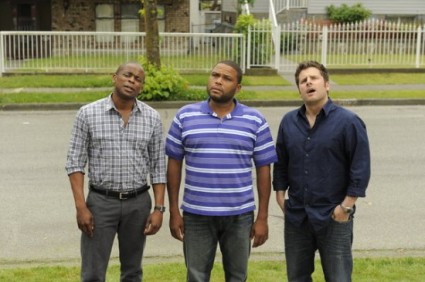 It was business as usual on USA's always hilarious Psych, and with the season finale looming ahead, the writers certainly delivered. How cool was it to see Anthony Anderson in last night's episode? Pretty awesome, right? I enjoyed the story that the writers concocted with his character, an imprisoned chef named Thane, being falsely accused. It was interesting seeing Shawn and Gus try to help him, although I'm not quite so sure it was because they wanted to clear his name as much as it was the ten thousand dollars that he was promising them. The running gag of Anderson showing up in different parts of the investigation was a nice touch too. I laughed out loud when he mentioned that he felt good having a real psychic helping him. The subsequent nervous glance between Shawn and Gus was utterly hilarious.
While the chief was unfortunately a no-show in this particular installment, I did enjoy seeing Shawn and Juliet go back and forth when it came to whether or not Thane was guilty. They really make a good couple, and I'm happy that Shawn's happy. My only complaint is that Gus doesn't seem to have a main squeeze. It's blatantly obvious that Shawn is his soul mate, but it would be nice to see the brother get some love on a romantic level. I'm just sayin'.
Here are a few of the notable quotables from the episode:
"Just because you put syrup on something don't make it a pancake!" – Shawn
"Much like Lada Gaga, I was born this way." – Shawn
"Can we move dinner from seven to eight? Thane is guilty." – Juliet
'Thanks for letting me tag along, fellas!" – Thane, to which Gus responds…
"You were hiding in the backseat." – Gus
"You smell like vanilla!" – Thane, after hugging Juliet
Well, there's only one more episode left in the season, folks! What can we expect? More crime? More laughs? More hidden pineapples? I could say no, but I'd know that you know that I'm not telling the truth! Feel free to mention any of your favorite quotes in the comments below!
Photo Credit: USA Network