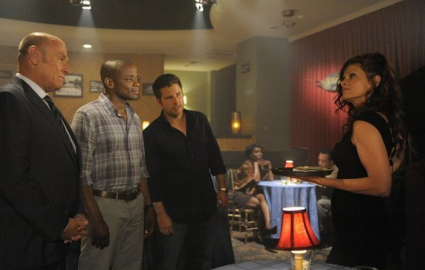 It's rare that a show like Psych delivers a shocker quite like they did in the sixth season finale. What began as a standard homage episode turned out to be something significantly different before the final credits rolled. I was enjoying the episode, but feeling a bit left out because I didn't get all of the Chinatown references — I know, shoot me because I haven't seen it … or better yet, shoot Henry. In retrospect, all of the foreshadowing was there, and I completely missed it.
To be fair, when Henry was palling around with his old colleague, it was apparent that something was going down. But the previous "tender" moments between him and Shawn, the retiring … even the clearing of that one last case, everything was was hinting to a big change with Henry. His sudden retirement seemed to fit the bill, but obviously more was in store for him.
I've heard nothing about Corbin Bernsen leaving the show, but let's imagine for a moment what would happen if Henry succumbs to his gunshot wound: Shawn has always been defined by his carefree attitude, even as he gets increasingly more serious with Juliet. But as cute as their coupling is, the loss of his father would irrevocably change Shawn Spencer. Before he found his calling as a psychic detective, he drifted through life with only one solid attachment – his best friend Gus (You know that's right). Henry's death could very well be a catalyst for a regression to that life.
Or, it could drive him closer to Juliet, who could help him through his grief. Their relationship would continue to accelerate, and they all live happily ever after.
But no one actually thinks Henry's going to die, right?
Notes & Quotes
"So, now I've got two bodies: the girl who's been missing for 20 years and the father of the man long suspected of killing her. Do you have any other bombshells for me?" – Chief Vick
"Did you see the finale of The Bachelorette?" – Shawn
"Yes." – Chief Vick
"Then no." – Shawn
"You can reinstate me, this one time." – Henry
"Come on Henry, all due respect, you can't just hop back in the game after all these years. There's been a lot of changes on the job." – Lassiter
"Lassie's right. For example the bicycle is no longer just one giant wheel with a tiny one in back." – Shawn
"And now my people can vote." – Gus
"That is my partner, Sh'Dynasty. It's spelled S, H, Comma-to-the-top, Dynasty." – Shawn
"Comma-to-the-top?" – Jordan
"That's a God's Comma." – Gus
"Feel free to help yourselves to the minibar." – Thea
"I've been waiting my whole life to hear those words." – Gus
"Have you always been such a snoop?" – Thea
"Oh yeah, hence my nickname in high school." – Shawn
"Snoopy?" – Thea
"Hammertime." – Shawn
"Jordan arrived at the hotel just as Summer School was starting at 9:00, which was true because I was watching, too. Nobody paints a scene like Dean Cameron." – Shawn
"He's Chainsaw, right?" – Chief Vick
"That's right Chief." – Shawn
"[To Shawn] Last time I saw you were practically in tears because your dad wouldn't buy you an ice cream. [To Henry] When was that, Henry?" – Bee Gamble
"Six years ago." – Henry
"I don' know, but I'm not mad at Ida. Something about older women in inappropriate outfits keeping it nice and tight." – Gus
"Gus, she's old enough to be your mother's younger, sexier, something … I get it." – Shawn
"It's sodium bicarbonate." – Shawn
"Baking soda?" – Gus
"Bacon soda? That's a genius idea, Gus but I'm not sure the world is ready for a pork flavored beverage." – Shawn
"I disagree, but that's not what I said." – Gus
"'The truth is heavy, therefore few care to carry it' … Winston Churchill said that." – Dr. May
"Look, doctor, I don't care if the former Prime Minister of England said that." – Shawn
"Rough day for you man, no way around that. The girl you were dating turned out to be your sister, who killed your father, who killed your mother, and was sleeping with your ex-girlfriend." – Shawn
"And Shawn punched you in the face." – Gus
"And there's that, too." – Shawn
Photo Credit: Alan Zenuk/USA Network Media