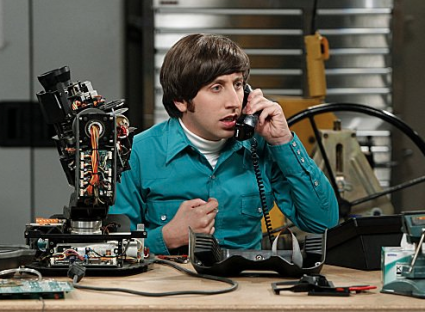 As the fifth season of The Big Bang Theory comes to a close, it is time for the show to answer a curiosity of mine that has been building for some time now: Would Howard Wolowitz actually travel into outer space? If he actually is able to overcome his fear, wouldn't this irrevocably change his character? One of Howard's biggest jokes is his wacky, undeserved confidence; but doesn't going into space make that confidence kinda bad-assedly deserved?
I'm glad that Penny shutdown Leonard's proposal. I like that it came completely out of left field, because it's something that Leonard would do. When they finally circled back around to the question in the coda, I was worried when Penny walked over and kissed passionately after he brought it up. The "No," however, was perfect. I liked that several of the characters were getting "Wedding Fever," but actually succumbing to it would be a different story.
I don't remember the last time a gag as sophomoric as the gas-affected voices made me laugh as ridiculously hard as I did. Penny's "I am your father," was great, and then Leonard's "You are a mean one, Mr. Grinch" was pretty damn good. The masterstroke, though, was "Cookies?" Comedic gold, baby.
These were some of my favorite quotes from "The Launch Acceleration;" if I missed your favorite, share it with us in the comments!
"[On the phone] Hey, Howard. David Rogger here at NASA. We need to talk about your upcoming mission." – David
"Yes, yes! I've been doing my push-ups. I'm still stuck at nine, but that's going all the way down with no one holding me." – Howard
"That's it. My orders have been rescinded. I'm officially no-go to space." – Howard
"I'm sorry Howard, but I've gotta tell you: I'm a little relieved you're not going." – Leonard
"Why?" – Howard
"C'mon. You were going to go up in a rocket designed in the 1960s by the Russians." – Leonard
"Yeah, so?" – Howard
"When was the last time you went to Best Buy and heard someone say, 'Oh, check out this Blu-ray player; it must be good, it was built in Russia." – Leonard
"When you come back to Earth in a Soyuz Capsule, you free-fall from space at 500 miles per hour. And the only thing that slows you down is a little parachute that pops out right before you crash into the ground. And the whole thing was designed by the same brilliant minds who were unable to capture Rocky and Bullwinkle." – Raj
"With our friends moving forward in their relationships, I've decided that we should make progress in ours as well." – Amy
"Oh, dear lord. Two years ago we didn't even know each other, and now I'm in your apartment after dark. How much faster can this thing go?" – Sheldon
"I'm sorry! I did, I crossed a line I didn't mean to!" – Leonard
"Who says something like that right in the middle of sex?" – Penny
"I don't know, it just came out! People say weird things during sex all the time." – Leonard
"OK, well they sure as hell don't say that." – Penny
"It was heat of the moment!" – Leonard
"No, the heat of the moment is 'Oh yeah, just like that.' Not 'Will you marry me?!" – Penny
"I'm sorry, just give me another chance." – Leonard
"Why, so you can crawl under the covers and go, 'Hey baby wanna go look for houses in neighborhoods with good schools?'" – Penny
"Can I ask you a question about women?" – Sheldon
"I got you that book last year, wasn't everything in there?" – Leonard
"No, I'm having a relationship problem with Amy … and, by the way, that book gave me nightmares." – Sheldon
"[Showing Howard his photo album] Last murder case I worked before I retired. How many bodies do you see there? Careful, it's a trick question." – Mr. Rostenkowski
"I'm … not sure." – Howard
"Ah, you'll never get it. It's a fraction." – Mr. Rostenkowski
"Alright, look: I'm going to level with you. I'm terrified about going into space. What if I don't make it back?" – Howard
"[Sincerely] It's gonna be OK, son." – Mr. Rostenkowski
"[Choked up] You really think so?" – Howard
"Of course. A pretty girl like Bernadette? She'll find a new guy." – Mr. Rostenkowski
Photo Credit: Sonja Flemming/CBS Broadcasting