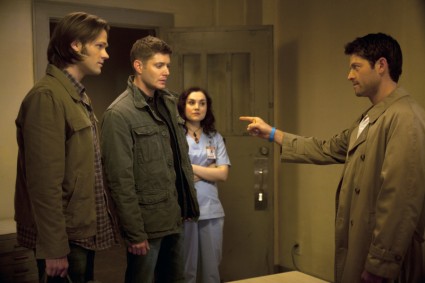 "This is the handwriting of Metatron." – Castiel
"Metatron? You're saying a Transformer wrote that?" – Sam
"No, that's Megatron." – Dean
'What?" – Sam
"The Transformer. It's Megatron." – Dean
Well, I got my wish — Castiel was back tonight. Anyone else feeling oddly dissatisfied? It wasn't a bad episode, but for a season that's supposed to be "retro," I'm really missing the good ol' days. I'll admit, some of the banter between the boys and Castiel put a smile on my face, and I really wish that I was there to pull Castiel's finger, but I'm going to need Castiel to be in his right mind next week. Like I said in my recent post about Castiel, he doesn't need to have supernatural powers, but he does need to be Cas. What do you think — how can the writers write a satisfying Castiel for the fans?
What's Meg's end game? I hardly think that she's reformed, though stranger things have happened (see Mrs. Padelecki's Ruby) on Supernatural. She bragged to the demons about having Castiel, something that Crowley wants — a bargaining chip, if you will. I'm wondering if Meg somehow has her sights set on Crowley's esteemed position as the King of Demons for herself. If so, she could definitely screw up Sam and Dean's plans.
I get that a lot can happen in a finale, and I also remember that it's not unheard of for Supernatural to end a season with a cliffhanger, especially when a renewal is a done deal. Running all the scenarios through my head, I can't imagine how next week's finale is going to move me. I don't care a whit about Dick's character, whereas Lucifer had some real appeal and depth. Dick's so wooden he's not even really hateable. I'm just not invested in the outcome, because I know that Sam and Dean won't die, I've lived almost a whole season without Castiel and if I have to, I'll do it again, and they've already taken Bobby from me once. I've done my mourning — so what's left? What's going to make me care about the finale … it's not Soylent Us, as Dean would say.
Photo Credit: Marcel Williams/The CW