Community – Journey to the center of Hawkthorne
'Community' does old-school video games Mario Bros. style and it was awesome. Oh, yes. They "are so on that things have now become very much like Donkey Kong."
- Season 3, Episode 20 - "Digital Estate Planning"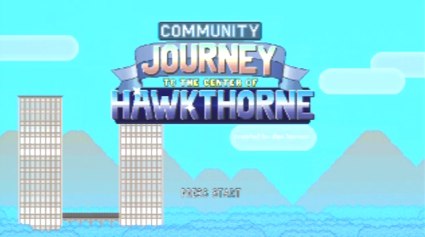 In the first episode of the night, Dan Harmon and gang returned to what they do best: mother-effing awesomeness. Pierce and the gang battle his father's video game (and his previously unknown half-brother) for his inheritance.
NBC and the executive producers made the right decision to release the last episode of the season first. It includes the warmth and witty awesomeness that Community represents to me that disappeared in the recent episodes. In fact, I found every single piece of dialogue so amazing I couldn't stop laughing.  THIS is what makes Community great and shows how it totally deserves a fourth (fifth and sixth) season. Will it recover when it loses two showrunners (and possibly its creator)? We'll just have to watch and see.
I loved everything about this episode. Since I couldn't transcribe the entire script, below find a detailed list of what I loved, including:
The inclusion of every single '80s/'90s movie arcade game from Donkey Kong to Mario Brothers to Myst to poker.
Giancarlo Esposito (aka Once Upon a Time's Sidney Glass) guest starring as Pierce's half brother (and Pierce's father's psychopathic manservant). I hope we see him again.
The gang's pixalated murder spree including Jeff killing Annie to help her, Britta accidentally killing Pierce with a hug, the gang wanting to kill Abed's future wife, Annie and Shirley burning, pillaging and axe murdering the blacksmith's family.
Pierce and Troy's naked video avatars.
The show bringing out the best and worst of the characters where Abed finds his dream woman while returning to his adorkable self and Britta managing to NOT pull a Britta in the video world.
Finally! A show showing the characters using the DOS-based command prompt, but typing in items correctly! Remember the Disk-based Operating System? I do. You can still see it by hitting the Start button and typing cmd into the search box. If you don't know what I mean, you probably have a Mac.
Pierce's father's "worst son ever" call, reminding me of "worst wake ever."
The secret worlds including the "jive turkeys" and gay island where Jeff ruled.
Troy's jealousy of Abed's video wife's ability to procreate.
Pierce's father viewing teamwork as a coward's strategy.
EVERY-EFFING-THING!
What did YOU love? Share in the comments below!
Check out our interview with Gillian Jacobs and Jim Rash.
Photo Credit: NBC