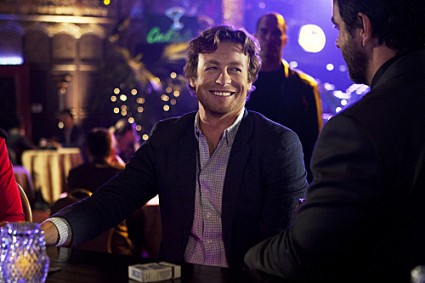 I know I get a lot of heat for my whole "Jane is Red John" rant I continue to go on … and will still go on about, until I'm shown concrete evidence to the contrary. However, last week a few people thought Wainwright might be Red John. While that turned out to be a wrong guess, I'm not so sure Wainwright was entirely innocent.
Red John — at least the one we heard over the cellphone — mentioned contacts he has in CBI or the FBI that helped him figure out Jane's true plan. Well, something didn't seem quite right with Wainwright. Although six months passed since the events of the last episode, I did not buy his sudden concern for Jane's wellbeing. It seemed way too convenient that he'd bring something like that up, when just the previous day Lisbon talked with Jane about his plan and how close he was getting to Red John. That's either a big piece of evidence showing Wainwright had some sort of in with Red John, or the writers didn't quite piece together the timing right.
We've known for some time that Red John has a slew of minions under his control, and I could see Wainwright being one of them. Sure, he was tied up in the back of that limo before he was shot, but he didn't budge an inch while he sat back there. Either he was knocked out with his eyes open, he was already dead before Jane got in the limo, or he did just as Red John commanded.
I don't see how the CBI or Jane will get any information out of their new captive. She seems to be fully under Red John's influence, and threats will go nowhere with her. Every Red John disciple has met an early end, and I really hope just once that doesn't happen. Instead, I could see Jane using some hypnotism on her to extract information, though I wonder why that wasn't tried before. I just know I'll be frustrated as hell if she simply winds up dead in her cell, with no leads to follow. THIS one has to lead somewhere.
I'm not sure whether to give props to the Mentalist writers for making me second guess Jane's intent in shooting Lisbon, or to be irritated that the explanation never led to something more meaningful. The look Lisbon gave Jane when he said, "Good luck Teresa; love you," excused why she looked surprised as the gun was drawn, but then later … it went nowhere. No real explanation of his saying he loved her or his wish of good luck. So while what he said made sense for how she reacted, it was blown off way too much later.
What're your thoughts on the finale, what Jane said, and Wainwright's fate?
Photo Credit: Michael Desmond/CBS