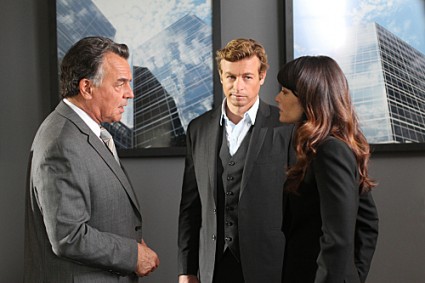 We've seen Patrick Jane react in different ways when the subject of Red John comes up. Sometimes he'll have a sudden burst of determination to hunt down the mysterious killer, then on another occasion he'll do nothing at all. Yet another time Jane went the distance to shooting the supposed Red John in cold blood, in the middle of a mall — something a bit surprising for the usually peaceful, somewhat jovial guy. And now Jane's gone another step into the darkness, this time taking out his emotions on what turned out to be a guilty man, though via means that ultimately got him fired from the CBI.
Something doesn't sit quite right with me with regards to the girl approaching Jane in the cemetery, and I'm wondering if Jane's actions were partly his feelings about it "not feeling right" as well. One theory that comes to mind relates to Wainwright. We've been teased for some time that Wainwright is keeping a close eye on Jane and his connections with Red John, and Jane's aware of that. His actions in pretty much solidifying a situation where he'd get Wainwright to fire him in front of everyone was no accident; Jane intended for that to happen.
It doesn't make much sense that Jane would so spectacularly screw himself out of his job. For some reason he needed to be out of CBI, though outright quitting was out of the question. It could be that he needed to use this to cause Wainwright to lose his cool very publicly in front of his team, though I imagine there were easier ways for that to happen than torturing someone first. What's a mystery to me is why Jane burned all of the Red John files. Perhaps he knows them so well that there's nothing to be gained from having them around anymore? Or perhaps he's just helping himself. …
Then there was Jane's odd ritual at the restaurant, downing bloody marys and sitting alone. Was this the restaurant and situation that occurred before he lost is wife and daughter? Could it be that Jane was plastered that night his family was taken from him, and this was a way of both showing us a glimmer of the past and a glimpse of reveals to come? I've often thought Patrick to actually be Red John, whether he knows it or not, and him having been responsible for their fates somewhat leads in that direction.
Patrick being fired from the CBI felt very much like a season finale, though there's still the finale to go. Will he stay out of CBI from now on, working only on the sly to help his team? Or will Wainwright be ousted somehow, clearly paving the way for the CBI consultant to come back to the office/couch?
Photo Credit: Michael Ansell/Warner Bros.