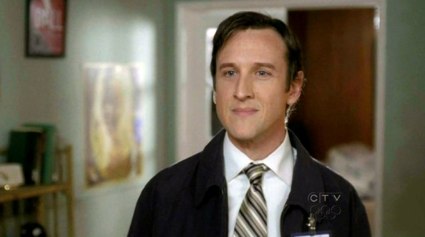 Sometime last week I happened upon a video (or someone told me about it — sorry if that was you and I forgot) that supposedly proves that The Mentalist's Red John is none other than forensic investigator Brett Partridge (Jack Plotnick). Partridge appeared in only two episodes, one being the pivotal second season finale, titled "Red Sky in the Morning," and the other the pilot. He's not exactly in Patrick Jane's good graces. For a character who's only shown up in two episodes, one could argue that being given a full name (rather than simply "Partridge") means he's of some significance.
Here's the video in question. It shows some scenes with Partridge, and then with the disguised Red John, from "Red Sky in the Morning." The proof — the creator of the video notes — is in the similarity of their voices (sorry, looks like the publisher turned off embedding ability, so just click through to see it):
Pretty compelling, right? So how can we know for sure? Leave it to me to put the actor on the spot and try to rouse some info out of him.
I emailed the cordial Jack Plotnick to see what, if anything, he'd have to say. I had to carefully craft my question so as to get the most out of it. So my question went like this:
In the 'Mentalist' episode titled "Red Sky in the Morning," did you provide the voice of the masked person who confronted Patrick Jane toward the end of the episode?
Note that I had to ask Plotnick if he provided the voice of that person, not if he actually was that person. What's in question here isn't whether or not he's actually Red John, and of course I wouldn't expect him to answer that outright. At least here I had a chance.
Here's what he had to say:
I have loved being a part of The Mentalist. I think it's a terrific show, and am proud to be even a small part of it's storyline.
Therefore, I would never want to say anything to spoil the mystery behind the true identity of Red John.
Hey, I didn't ask if he was Red John! I believe the way I phrased my question leaves it very open for him to answer in the negative. Instead, he basically says he can't tell me. As always, take from that what you will.
When I asked him if his character would be coming back to the show, here's what he had to say:
I'm being honest when I say I have no idea when OR whether I will be back at all….
But I am keeping my fingers crossed
That's probably the most interesting part of this. You'd think that if he was put in the shoes of Red John he'd at least assume he'd be back, right? Hey, he says he's being honest here, right?
So what do you think? Is Brett Partridge Red John? My thinking is that he is either Red John or at least one of his highest minions. I still want to hold onto the theory that Red John is a more significant character than a two-episode recurring character. However, if we see Partridge appear again, I might change my mind. Then again, who's to say he's just not one of Red John's disciples?
Man, it's fun to try to figure this stuff out.
Photo Credit: CTV