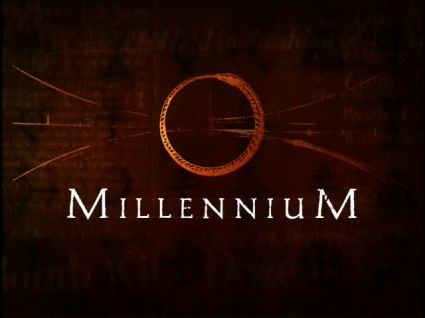 "Gehenna"
I'll admit: "Gehenna" wasn't anywhere near one of my favorite episodes of Millennium. Right out of the gate, it didn't set to much of a stage. And then, going forward, it just went downhill from there.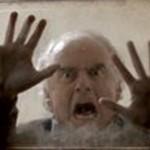 The only thing that was of any interest in this episode was the tightening up of a little back story — the introduction of Mike Atkins (Robin Gammell) who states he believes Frank and his family are not in any danger where this person is concerned, that's it's all about scare tactics, nothing more. On top of that information, there was the aside chat between Bob Bletcher and Frank's wife Catherine about Frank's state of mind. Other than these two things, the "interesting case" the story told wasn't interesting at all.
I found it rather interesting this story got through the approval process at all. It was rather convoluted, didn't really answer why the victims were immolated by Gehenna Industries and the payoff — the discovery of the weapons stockpile — was supposed to give us a sense of foreboding. But it simply left me scratching my head.
This episode just didn't have any *umph* to give.
Note:
This was the first Millennium episode where a quote was used at the beginning of the story, something that would continue with subsequent episodes of the series with many coming from biblical scripture.
"Dead Letters"
The third episode, however, gave us plenty of bang for our buck in the way of character study. Whereas "Gehenna" was the plainest of vanilla (and not even a very good vanilla at that), "Dead Letters" stood its story on its ear.
First off, there was the opening quotation giving a glimpse into the mind of the killer:
"For the thing I greatly feared has come upon me.
And what I dreaded has happened to me.
I am not at ease, nor am I quiet; I have no rest, for trouble comes."
— Job 3:25, 26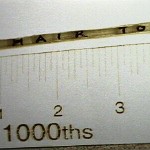 Frank was very sure about the case and very sure about what he believes about the case in question. So much so that it gives possible Millennium recruit James Horn a complex.
Right away, I was very attracted to James ("don't call me Jim") Horn and his initial discussion with Frank. I enjoyed that James was nervous and skeptical about working with Frank and further appreciated Frank's attitude and secretive nature in not revealing anything he thought James didn't need to know. Regardless of what Frank answer to James about whether he was profiling him or not, you knew Frank was doing just that. Add to it the fact Frank is positively assured of the case and what he's gleaned from it and his cock-sure demeanor holds fast and gives us just what we want from the character. Kind of a hard ass, cock-sure and unrelenting.
I really enjoyed how Frank pulled together and summarized everything about the killer while James was visiting The Blacks for a little homey BBQ. It was kind of an "in your face" from James initially giving Frank the third degree earlier in the episode during their first meeting.
As the case progressed and James' quirks and kinks turned from the profile-ish questioning of Frank to a downright obsession for him over the details of the investigation, I quickly became more and more wary of not only James' intentions where the case was involved, but wary too of any ability he might have as a viable member of the Millennium Group. In the end, there was no possible way he could objectively work out as a sound Group member.
The killer (Ron Halder) was effectively creepy and unhinged, perfect for the episode.
Overall, a top notch episode.
Notes:
There was a big continuity error in this episode. Frank had come back from Portland and was lying in bed with Catherine, discussing James. In the following scene, you can clearly see Frank has sat up in bed as his head is not at the same level with the headboard as it was before they cut away. (Yes … stuff like this bugs me. I'm all about the continuity … especially when it's this obvious.)
I have a special appreciation for Lance Henriksen and his completely interesting facial expressions.
Here's another little pick: We're expected to believe The Killer was that technical and methodical and calculating in the disposition of his victims … but flies off the handle over something that was pretty obviously a ruse, the newspaper piece suggesting he was of "lower intelligence" … ??? I think this could have been handled by the writers a little more effectively.
Quotes:
"There are those in the group who believe we shouldn't take the case in Portland. Some are unconvinced the subject will kill again." — Jim Penseyres
"He will." — Frank
"Others think we should wait, applying the Holmes criteria defining serial killers involving three victims from the time period between murders of at least 30 days …" — Jim
"He won't wait. He'll kill again. Ten days … a week maybe …" — Frank
Photo Credit: FOX