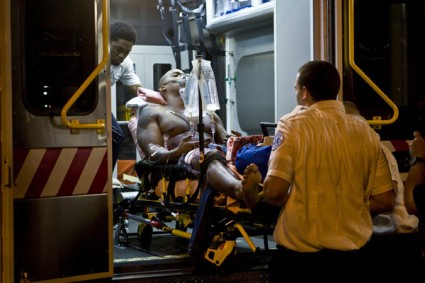 "Well we got no choice, all the girls and boys
Makin' all that noise 'cause they found new toys!"
– Alice Cooper, "School's Out"
Yes indeed! School's out, the BBQs are orange-tipped and in full flame and Quotation Marks is firmly embroiled in its summer programming glory. How 'bout that? Just like the last day of school for the kiddies, you thought it would never come, didn't you? But oh, ye of little faith, here it is … complete with all the two-dimensional, black and white statements from many of the shows in which you're currently investing your time and concentration.
I'm beside myself! And even without a clone or a mirror … !!! Enjoy!
"Mike, this is not a story. Collins made a bunch of faces, he was re-assigned, that shouldn't be news. How in the hell did this happen? It's the Secret Service for Christ's sake! 'Secret' as in 'shut the fuck up', and 'Service' as in, 'you work for me, so why don't you shut the fuck up.'" — Selina
MasterChef (Review & Review)
"It's like gnawing on a rosemary branch." — Joe Bastianich
"I'm prayin' that he's not cookin' that thing …" — Graham commenting on Mike Hill coming in on a horse
"I want that apron like a fat kid wants cake." — Contestant Craig who didn't advance
"We need to lay some serious ground rules, OK? Don't look at me, don't touch me and don't give me those like, really weird, creepy, meaningful looks." — Peck
"Am I allowed to recall what you look like naked?" — Collins
"Do you want me to punch you in the face?" — Peck
"They're gonna treat her like she blew up an orphanage field trip to an animal shelter." — Ben
"Well, you know what they say: Live fat, die old, and leave a weird-looking corpse." — Chris
So You Think You Can Dance (Review)
"This is either going to be horrific or terrific …" — Mary Murphy commenting on what she thought Tim Conkel's performance would reveal
"Remember those vows 'for  better or worse'? Guess which one this is." — IRS guy on Dani's tax problems
"Ah, dude, why are you giving bling to my dead girlfriend?" — Wally
But wait! There's more! Look! It's a bonus Millennium citation! Why? Because the summer is also awash in various rewatches and Virgin Diaries from our bold and intrepid (and sometimes left-of-center) CliqueClack staff! The hits just keep a'comin' … !!! Woot!
"There are those in the group who believe we shouldn't take the case in Portland. Some are unconvinced the subject will kill again." — Jim Penseyres
"He will." — Frank
"Others think we should wait, applying the Holmes criteria defining serial killers involving three victims from the time period between murders of at least 30 days …" — Jim
"He won't wait. He'll kill again. Ten days … a week maybe …" — Frank
Photo Credit: USA