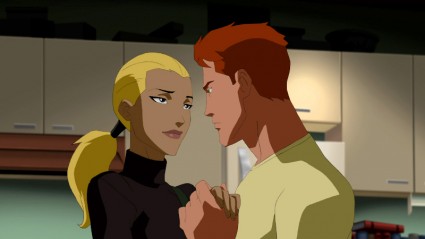 The Young Justice writers are complete and utter trolls. There, I said it. They like to mess with the fans' heads, so much so that when a character says, "What's the worst that can happen?" in the first scene of an episode and in the very next scene is pronounced dead, we just assume the writers are messing with us. Except then we start to wonder if the writers know we'd assume that, in which case maybe the character really is dead. Do you see what I mean? Emotional roller-coaster. That all being said, this last episode before the summer hiatus was easily the best of the 2nd season.
Funnily enough, the basic plot of this episode is the least interesting thing about it. Carol Farris (with help from Miss M., Superboy, Lagoon Boy, Nightwing and a mostly retired Artemis) leads a satellite launch to established secure communication with Mars. Of course, the Glen Beck-doppleganger G. Gordon Godfrey has some not-so-nice words for the Justice League about their friendliness with aliens. I had to laugh when he notes that Manhunter is an ominous sort of name. Dude, you're one to talk — you're in the DC universe and your name is G. Gordon Godfrey … the fans can see you coming from a mile away.
It took me a few watchthroughs to confirm that I heard their conversation right, but Conner's real reason for breaking up with M'gann is so much more understandable than the lie he gave Alanna in "Earthlings." It didn't make sense for him to break up with a shape-shifter just because he would never age, but knowing she tried to erase his memories of her destroying the minds of their enemies … no Conner, you are totally justified and not a jerk. Lagoon Boy on the other hand … look, it's not that I hate the character. It's that he annoys the crap out of me. First he's complaining that all he gets to do on the team is be underwater (you're the only one on the team who has your skill set — see it as a compliment because they need you). He then gets pissy about Conner and M'gann being in the ship, which I would understand if he had any tact about his public displays of affection. You can't get mad at Conner for not liking you if you're always kissing his ex-girlfriend in front of him. It might not be a bad thing if we don't see him for a few episodes.
So now, Kaldur. I've been rewatching the first season recently in anticipation for this episode and the one thing I kept thinking over and over was that there's no way Aqualad would be broken this easily. Tula dying would have hurt him badly, but turning away from his oath as a servant of his king just because Aquaman didn't tell him about Black Manta? That's just not enough to turn the stoic, kind and patient Kaldur "to the Light." The one thing that troubled me with my theory that he was a spy was that he acted that way even when he was alone with Superboy and Nightwing. Of course, once they revealed only Wally, Artemis and Dick were in on the plan, it made a whole lot of sense.
OK, the writers had me going on Artemis' death. Not at the beginning — when they played their hand before the opening title,  I was sure they were fooling us. Dick was not chalant enough for seeing his friend and his best friend's girlfriend die in front of him. But they got me when I saw everyone at the base in complete mourning … that's when I said (out loud), "Oh my god, they actually killed her." And when Conner said Nightwing was going to go tell Wally, my heart broke and I braced myself for what would be the complete destruction of Dick and Wally's friendship. Until I saw Kaldur … and then Artemis. And that was when I paused the episode and just shouted, "YES!" for a few seconds.
I know way too many fans of this show who were very mad at Wally when the preview for this episode released on Thursday. His overly protective disapproval of Artemis before she left to rejoin the team for this special mission had the ring of hypocrisy. Just last week we saw him don the Kid Flash costume again, so why should her protecting the satellite launch be any different? We've gotten to see so little of them as a couple or at all since the five year jump, so for all we know, he's like this all the time with her — even their interaction before they became a couple felt a little sparse (I still attest that we needed one more episode focused around them before "Insecurity," but that's just me). I think we were all wondering … just what's Wally's deal?
But the deal is simple. It wasn't about this one mission (which was just about as dangerous as anything else they had faced while still on the team). It was that this was the precursor to her going undercover and potentially not seeing Wally for weeks or months. It meant not only would she be around their sworn enemies constantly, but her best friends would have no idea she's one of the good guys. And those friends include Miss "I make my enemies brain dead without a second thought" Martian. I do have to wonder if anyone will recognize Artemis since the magical changes to her appearance are so small, but I guess maybe she'll cut or style her hair a different way before she's introduced by Kaldur to the bad guys. Also, I'm calling that she uses the alias "Linda Park"  so the writers can make the Spitfire fans lose their shit.
Outside of the undercover mission, some fans are still bothered by Wally's apparent pulling Artemis away from the superhero life. And yes, he is being kind of possessive or at least overly protective of her. As a friend of mine noted, it's not like Dick would ask Barbara or Zatanna (the two women he's been close to/romantically linked with) to give it all up because it's dangerous — Dick trusts them to make their own choices.
However, look at Dick (heh): Dick Grayson lost his entire family at a very young age. He learned early on that even if you stay away from trouble, sometimes you can still lose it all, so the best thing to do is to do all you can. Wally, on the other hand, not only has a full and happy family, but a full and happy extended family in his aunt and uncle. He has never had to deal with a loss like this … except for in "Failsafe," when he thought he lost Artemis. And that happened before he consciously knew his feelings for her and as far as we know he's never dealt with that traumatic experience. I don't agree with his possessiveness, but 1). it makes sense for his character and 2). he still ultimately supports her decision — even if his last line to Dick about how much he hates this foreshadows friction between them in future episodes. We did finally get to see quippy Wally again with my favorite quote of the episode: "Ah, dude, why are you giving bling to my dead girlfriend?"
Up until this episode, the major changes of this season have bothered me a lot. The time jump meant that we missed out on five years of these characters — characters who won our hearts because so much time was devoted to developing them and their relationships to one another in the first season. The new characters who have actually gotten some character development (especially Blue Beetle and Impulse) are great, but for the most part the character development has been spread so thin between everyone including the original team that it didn't feel like the same show. While "Depth" doesn't fix everything, so many links have been filled by this episode and suddenly the random episodes before it have more focus. Best of all, this episode centers on the first team members. I don't need every episode to be like this, but we need more moments with the original team because they are the core of the series.
This isn't the end of the season, but the next episode air date hasn't been announced yet, which means it might be the fall before we see any more episodes. Listen writers, I know the hiatus is the fault of the studios and not yours, but if we have to wait months for the next chapter in the story, you better make it just as good as this one.
Photo Credit: Cartoon Network