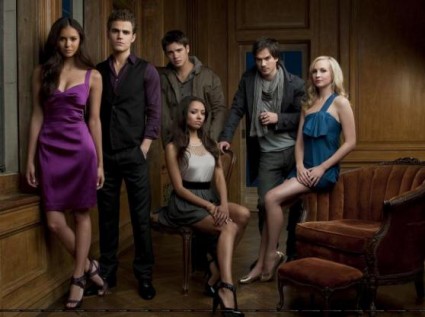 I don't know about you, but waiting four months to see a new episode of The Vampire Diaries again is a very, very long time for me. I'm not generally into being spoiled, but lately I've needed a Vampire Diaries fix — so I perused all things internet for some inkling of new information to get me through the long, torturous summer (to be honest, I love the summer; I'm just going for a little drama here). I found just enough tid-bits to get me speculating on what season four might have in store for us.
Julie Plec had a lot to say at this weekend's ATX Television festival:
Caroline will become Stefan's new Lexi, the bosomest of buddies
I like the dynamic that has been evolving between the characters and this is a good idea. Stefan needs a friend: he can't have a completely honest relationship with Damon (although they have been working at it), and anyone who's not a vampire isn't going to work either.
Caroline and Matt may have another moment in season four
Look out, Tyler! I always thought that Caroline and Matt were the sweetest couple without being saccharine. I'd love to see them have a moment, because that's all we're going to get with anyone; these pairings are far from permanent — where would the fun in a long-term relationship be? I think the real heart of the matter is I completely adore Caroline and she's adorable with anyone, and that includes Klaus.
Bonnie's dad will be introduced
Don't care … yawn. …
Alaric could return
See, that's just what I was thinking … and hoping … and praying for. Oh, I know there's that little show called Cult that Matt Davis will be leading come mid-season, but the network can give him some flexibility to be Jeremy's Obi-Wan, I'm sure.
Joseph Morgan will be back as Klaus, but not right away
Interesting. First of all, that he'll be back — I'm pretty sure we left him as an ashen mess. The Vampire Diaries does have a way of creating loopholes; it will be fun to see how they manage this one. However, the real fun in this tid-bit is that Klaus will be in Tyler's body for a while, and no one but Bonnie knows it. Am I completely twisted to want to see Caroline and "Tyler" get it on? I do, and it will happen. Mark my words.
Nina Dobrev speaks out about what it will be like for Elena now that she's a vampire:
Feelings are heightened and Elena looks out for everyone
Nina, Nina, Nina — I think you're missing the point. Elena as a vampire isn't going to be altruistic; she's going to be horny for Damon.
Elena really chose Stefan
Interesting, because here's what I think is going to happen: see above, because Elena's going to be horny for Damon.
It's fun to get these little hints about what could happen on The Vampire Diaries' season four. Do you have any theories?
Photo Credit: The CW