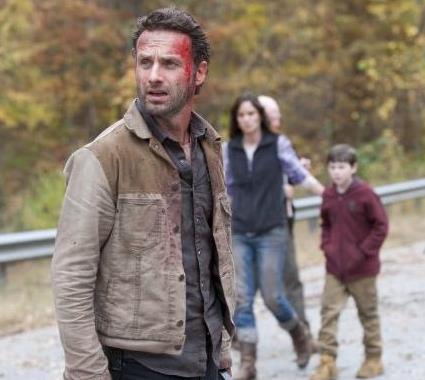 When I look at my viewing habits honestly, I am forced to admit that I watch a lot of shows based on the supernatural. Some I love more than others, though, and I think I've found the key to a balanced, complex, satisfying formula — these shows simply cannot take themselves too seriously.
For the purpose of this post, I've got to stick to discussing the shows I watch, which are Supernatural, The Vampire Diaries, Grimm, Being Human US, The Walking Dead, Warehouse 13, American Horror Story and Teen Wolf. And those are just the ones currently airing (so no Buffy, Angel, etc., though they would fit in perfectly with the subject of this post).
Supernatural is my favorite example of not taking itself seriously, with perfection. From the spoof episodes to the one-liners to the blatant making fun of themselves, this show hits the humor from every angle, without it taking away from the serious side of the show and the strong character development.
The shows on my list that do this in the weakest ways are probably Warehouse 13, because it tends to get fluffy at times, and Teen Wolf, a show that is desperately trying but hasn't quite found its groove. I recntly wrote that we need more interaction between Derek and Stiles and less of the Stiles antics; he just doesn't play it like Nick Brendon's Xander.
One of my watched shows is not like the others, because I do believe that The Walking Dead takes itself very seriously … and that's one of the weaknesses I find in the show. There really isn't a character who offers comic relief like Pete Lattimer, there's no one who can deliver the zingers like Dean Winchester and Damon Salvatore. Some may say that's because the zombie apocalypse is no laughing matter, but I'd say it's a weakness in the writing (or maybe just a preference of this viewer). Playing Devil's advocate for a moment — even if a show is serious business, isn't it OK to have a little relief once in a while? I'm not saying The Walking Dead needs to change its style, just that a lighter side would make it more watchable for this viewer.
The Walking Dead absolutely relies on strong character development … but so does Supernatural. It relishes the slow burn, not unlike American Horror Story. Every supernatural-based show that I watch has a distinct darker side; that's not something I'm opposed to, in fact, I welcome it. But I just find The Walking Dead a bit heavy-handed with the drama, the angst, the futility and inevitable collapse of humanity. I'm not suggesting campiness, goofiness or anything that would cheapen the effect in any way, just some hope through humor.
Without taking away from the distinct style The Walking Dead has built for itself, do you think it could incorporate a sense of humor, somehow? The only time I laugh is when the lumbering, brainless attacking zombies actually overpower the nimble humans … and I don't think I'm supposed to. Would adding some element of taking itself less seriously make the show more watchable for you? Or maybe its diversion from the typical style of a supernatural-based TV show is what makes it successful for you. What do you think?
Photo Credit: AMC