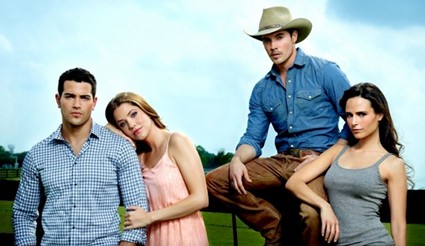 NBC - It's certainly no surprise that coverage of the London Olympics dwarfed everything else on television. The final numbers aren't in yet, but it looks as if London will surpass Beijing as the most watched event in US TV history. Here are a few results:
Sunday (31.26m/10.2)
Monday (26.57m/8.3)
Tuesday (30.15m/9.6)
Wednesday (29.09m/9.4)
Thursday (22.86m/7)
ABC - It was a pretty dismal collection of new programming, with Wipeout (3.38m/1.2) leading the way. Rookie Blue (3.8m/1.1) and Bachelor Pad (3.41m/1.1) just squeaked into the 1s in the demo. The rest of the schedule fell short, including Secret Millionaire (3.8m/.8), Extreme Makeover Weight Loss (2.48m/.8), The Glass House (1.59m/.6), and Final Witness (2.81m/.8).
CBS, CW, and FOX - CBS brought three episodes of Big Brother (5.72m/2.1 – 5.39m/1.9 – 5.03m/1.8) while CW had another LA Complex (.44m/.2). Fox had no new programming.
CABLE - There was good news for Dallas (4.29m/1.3) fans. The season one finale went out on a high note. That is two tenths below the premiere in June, but also half a point ahead of the previous week.
Basic

Longmire (4m/.8)
Falling Skies (3.34m/1.3)
The Glades (3.01m/.7)
Army Wives (2.82m/.9)
Leverage (2.61m/.7)
Breaking Bad (2.29m/1.2)
Drop Dead Diva (2.26m/.7)
Political Animals (1.8m/.4)
The Closer (6m/1)
Perception (4.1m/.7)
Teen Wolf (1.72m/.7)
Warehouse 13 (1.63m/.6)
Alphas (1.4m/.6)

Bunheads (1.17m/.5)
Secret Life of the American Teen (1.1m/.5)
Pretty Little Liars (2.45m/1)
Burn Notice (4.04m/1.1)
Suits (3.42m/1.1)
Melissa & Joey (1.09m/.5)
Futurama (1m/.5)
Anger Management (2.1m/.9)
Sullivan & Son (1.95m/.8)
Awkward (1.82m/.8)
Wilfred (.95m/.4)
Louie (.7m/.4)
Project Runway (2.03m/.7)

Premium

True Blood (4.5m/2.7)
The Newsroom (1.76m/.8)
Weeds (.64m/.3)
Episodes (.33m/.1)
Photo Credit: TNT