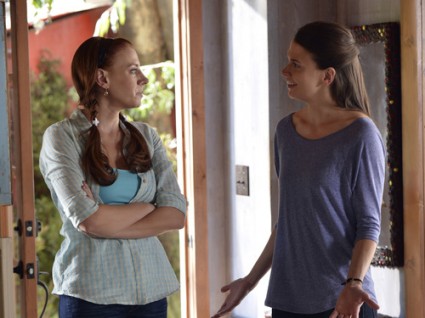 In this week's episode of Bunheads, the long-awaited Joffrey Summer Program auditions are finally imminent. But instead of showing the actual auditions, the majority of the show focused on other problems. In one corner, Michelle is worrying about all the furniture being delivered to her that won't quite fit in the guest house (physically or spiritually) — sort of like her old life not meshing with her new one. Then we've got Fanny, who is stressing out over Joffrey's fax which indirectly threatens not to hold auditions in Fanny's studio until the floors are fixed.
I'm not sure I really cared too much about either of these stories. What intrigued me more was the dynamic between Boo and Sasha this week. Boo is finally standing up for herself and giving Sasha a taste of the attitude she dishes out on a daily basis. However, Sasha is softening, and I'm not sure if that's because she feels guilty for lashing out on Boo last week, or because she realizes that having friends who like her is more important than being a brat.
At first, when Sasha gave Boo the new toe shoes, I wanted to shout, "No! It's a trick! Everyone knows you don't compete in brand-new, non-broken-in footwear!" Thoughts of Ice Princess (2005) flashed in my mind, when Hayden Panetierre's character gave Michelle Trachtenberg new ice skates before a competition. But I quickly realized it wasn't about that. Sasha stealing the money from her mom's wallet and buying Boo new ballet slippers says a couple things about her. Firstly, she feels her mom won't notice the money is gone, either because she has a ton of it, or because she just doesn't pay attention to anything her daughter does. Secondly, Sasha has compassion and cares about Boo — even if she blew the gift off as nothing, saying her dad got her the wrong size so she had no use for them.
I really enjoy Stacey Oristano (Truly) and what she brings to the show. On Friday Night Lights, she played a crazy, vulnerable, irrational, overly emotional character. Funnily enough, those descriptions could also accurately describe Truly. However, the Bunheads character is completely different. I am looking forward to seeing her more, and to hopefully having her build a friendship with Michelle.
One thing that was confusing to me: why did Boo's mom get that cake made for her? That seems odd considering she seemed so loving and supportive. Couldn't the cake have said "You did it!" or "Congratulations!"? That sentiment could apply to an audition as well, even if she didn't get accepted into the summer program. Something just didn't seem right about it. I thought we were going to find out more, but we didn't hear from Boo's mom for the rest of the episode.
And I am pretty disappointed in them not showing any of the auditions! Are you? That's what I was most looking forward to after the previous episode. And it sucks that Boo didn't make it — three times — especially after all the buildup for the past few episodes on how hard she has worked. I thought it was a nice touch how Michelle kept having audition nightmares, too …  I guess it goes to show that you never really leave show business even when you move away from it.
Quotes:
"What's going on here?" — Fanny, reacting to all the furniture in the yard
"I'm being robbed in reverse … things are being brought to me that I do not own or want." — Michelle
"(Gasping) Look! The holy dark chocolate peanut butter cups from that hippie place  in Topanga Canyon! It's a miracle they have these. They're usually off on their naked retreat this time of year." — Boo's mom at the farmers' market
We didn't even discuss color or style, but it's as if we did. They're exactly what I want." — Michelle, looking at the curtains Truly made her
"I know." — Truly
"But how do you know? How do you know what I want?"
"I've always been able to tell exactly what everybody wants … except for me." — Truly
Photo Credit: ABC Family