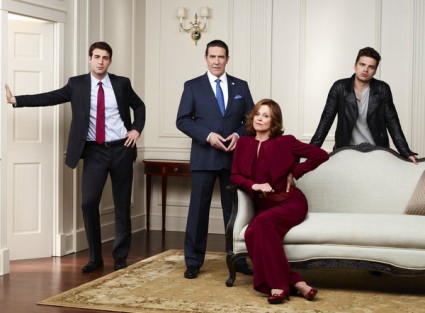 Political Animals is the new cutting edge limited series on the USA Network. The series opens with the former first lady, Elaine Barrish, conceding the democratic primary for president. When her rival wins the presidency, she is called to service to be the secretary of state. Sound familiar? The premise clearly is based on Hillary Clinton, but after the opening moments the story becomes its own.
Elaine divorced her philandering former president husband, Bud, and takes on the political world. This is a story of her family and how her ex-husband and two sons have come out the other side of their time in the White House. It also provides a behind-the-scenes look at the maneuvering and manipulation that takes place within our government, as well as, internationally.
We are giving away a Political Animals Political Survival Kit including a bag, corkscrew, chess set, mobile power device, animal crackers, "Power" t-shirt, and magnet set with an estimated value of $357.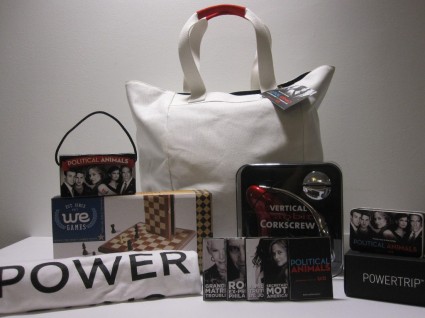 To enter:  Leave a comment below with either your favorite quote from the show or which character you find the most compelling and why by Monday, July 30th at Midnight PT.
Get a second entry by following us and Political Animals on twitter at @CliqueClack and @PoliticalAnimal and tweeting the contest one time:
I love (insert character) b/c _____. #PoliticalAnimals contest
via @CliqueClack http://clak.us/t3cxs
We will be tracking tweet entries via twitter, so you don't need to put those in the comments.
The premiere episode is currently available for free at Hulu and on YouTube. Check it the Political Animals premiere and then enter to win the Political Animals Political Survival Kit.
We'll pick one recipient completely at random and alert them after the giveaway ends on Monday July 30th at Midnight PT (make sure your spam filters aren't blocking mail from @cliqueclack.com!). Only one entry per person per method and you must have a valid U.S.-based mailing address. The prize was provided by USA Network, but USA Network is not a sponsor, administrator, or involved in any other way with this giveaway. This giveaway is open to U.S. residents of 18 years of age or older only. Not following these guidelines voids your entry. Good luck!
Photo Credit: USA Network