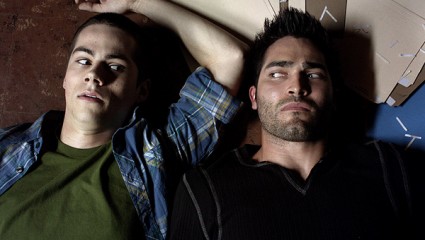 For all of the action, suspense and heartbreak in Teen Wolf's "Fury," I'm left with one pervasive thought about the episode: Gerard is one manipulative and hypocritical bastard. I thought I had seen the worst of the worst when he manipulated Allison into seeking vengeance for her mother's death. In fact, I question whether Allison's mother even wrote that note. Then, Gerard went on to manipulate Allison and Chris into believing that Allison knew the difference between revenge and retribution. Here's a 17-year-old girl who has just lost her mother — there's not a chance she can differentiate her feelings right now, and she's in no position to be calling the shots for this mission. Yet Gerard has her just where he wants her … he should be ashamed of himself. Don't even get me started on Gerard killing another human with his bare hands, not to save the humans from an evil monster, but to control one himself.
Alan was on the money when he told Derek that Gerard's plan was going exactly as he wanted it to. At the time, I thought it had something to do with Peter, but now I'm thinking Peter may be the one person that can stop Gerard in all his evil glory. Now that Gerard has control over the Kanima, imagine what evil he can do. Do you think he'll even try to disguise it in the form of "the end justifies the means" or do you think the evil will just take him over?
I love the symbolism here, and the statements Teen Wolf is making about good and evil. Traditionally, it's the monsters who are evil and the humans who are good, and they need to fight the good fight, save the world, what have you. But Teen Wolf is turning this accepted paradigm on its head by making Gerard the Big Bad. Now, this has been done before: Buffy had its turn when Willow was the Big Bad and Spike turned good, and Angel was this symbolism embodied as the vampire with a soul. Twice now, Supernatural has done the same, first in "The Benders" and again this season with "Repo Man," focusing on the humans as the evil ones. We know how it all turned out for Buffy, and they generally stuck to the analogy of monsters bad/people good. The recurring theme of Supernatural is also such that the humans will be the ones to save the world.
It will be interesting to see where Teen Wolf takes this assumption. Will it be temporary, or will the lines between the monsters and the humans stay blurred? I welcome that, because it's real. There are monsters everywhere on this earth and you don't have to look very hard to find the monstrocities committed by humans. It stands to reason that a show about monsters can have all types. I get that there were good monsters on Buffy and Angel, and there are certain vampires that we can count on in The Vampire Diaries (though I see this as less of a statement and more of the fact that we need some 3-dimensionality to the characters; we're supposed to like the vampires). I don't deny that all of these shows are doing it to a degree. But instead of getting all wrapped up in the supernatural elements, Teen Wolf has the opportunity to showcase evil in its many forms, as a series-wide statement and I hope they grab it and run with it. What they've set up with Gerard is spectacular, and the curve of the arc that got us here was well-played.
This and that:
Do we know how to kill a Kanima yet? Gerard likely does because he's got that book memorized, but Allison was not having much like hurting Jackson.
It was heartbreaking watching Scott's mother reject him as a wolf. I was yelling at the television set, "Scott, just talk to her. Tell her it's OK, that you're OK." Oh, my.
There's going to be some huge fallout now that Derek knows Scott was a double-agent for Gerard. Allison's going to feel crappy when she finds out as well. And poor Scott, just another victim to Gerard's manipulations. No one seems to know where to put their trust.
When Stiles falls paralyzed onto the already-paralyzed Derek, Matt just says what we were all thinking: "You two make a pretty good pair."
So Alan's been at this for a long time, protecting Derek and his family. That loyalty is not coming from a place of evil, and Alan knows the evil inside Gerard. More evidence for my theory. …
Photo Credit: MTV