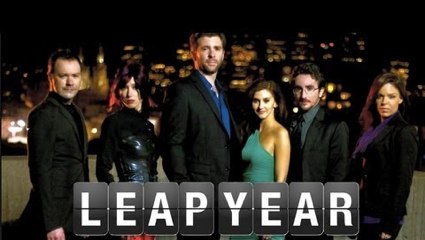 It's been a while since I've made time to check out a decent, long-running web series. You never know when you're going to hit upon a hidden gem that's better than most shows on television. Then again, you're likely to wade through a lot of either really weird stuff along the way … or just plain crap.
What impresses me most about a web series isn't necessarily the acting or filming quality; it's when a series is able to at least maintain consistency — if not improve — and live on past only a handfull of episodes. Seasons, even. Jane Espenson's Husbands is one quality series that comes to mind in that respect. And now I've found out about Leap Year.
Executive producer and actor Wilson Cleveland introduced his web series Leap Year to me some time before I was off to the San Diego Comic-Con. Cleveland has an unmistakable passion for this series, and it shows in not only the consistency of production value but in how it's marketed around the web. The series concentrates on what it takes to make it in today's business world of VC-backed start-ups and, sometimes, the Internet marketing mojo needed to take strides ahead of the competition; it's clear Cleveland's using those same practices for making his beloved series a success. I mean, look, he asked us to review it, so he's obviously a genius.
Leap Year is into its second season right now, having just debuted the seventh episode yesterday. The series follows a group of five coworkers who, in the first episode, are laid off from their jobs and become inspired to band together to form their own business (that, along with a tempting and mysterious cash prize to make it a success). Each member of the small group has his or her own strengths and skills, meaning they're capable from taking an idea and turning it into reality without initially having to bring anyone else into the fold. Though that description makes it sound like it's all business and no fun, Leap Year is first and foremost about these five people and their relationship with one another, as well as their relationships outside the group. It can be serious, but it can be funny and absurd as well.
Photo Credit: Hiscox
This Post Contains Multiple Pages: 1
2