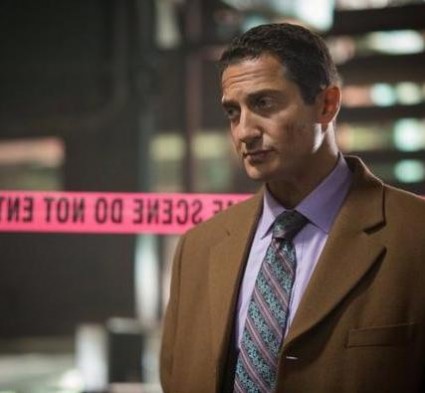 And now? We're really off and running …
Captain Renard's visions of grandeur from "Three Coins in a Fuchsbau" make sense, now. That wasn't just a random dream sequence he was having while he was under their influence … it was a manifestation of wishful thinking. Because, as it turns out, our good mysterious captain has been pegged as royalty. A "prince" as fate would have it. And a "barely human" one at that according to Hexenbeist Catherine. (A man "pure of heart" indeed as suggested in Grimm's opening. *snort*)
No wonder Nick can't see him and doesn't recognize him for what he is. See, in the grand scheme of things when you go back to your fairy tale lore and historical contexts, there are stories of kings and queens and the like often mixing with commoners and not being recognized for one reason or another: They didn't want to be found out. They had an agenda they were attempting to work. They wanted to see what it was like not to be locked up all sad and lonely in their ivory towers in want of love and companionship, etc. Well, we know for a fact Renard doesn't want to be discovered … and he definitely has an agenda. We just don't know what it is yet.
But let's toss into the mix the one thing that tripped my trigger, whether or note it was a throw-away reference: He's got a "brother" … ??? Was that a citation to "brother by another mother" or of the same? Because, if the latter, that could potentially throw a big 'old monkey wrench in the proverbial machine. Who out there doesn't believe family — when entered into the mix — isn't capable of being a thorn in a sibling's side? There are examples throughout the ages, both true and fabricated: Cain and Abel, Cinderella, The Brady Bunch, The Kardashians. Oh, hey … here's one: The Brothers Grimm. *heheheheh* All I'm saying is there's the potential of things escalating to the Nth degree coming 'round the mountain as they come.
The season's just gettin' goin'.
Notes:
I like Monroe. Really … I do. But if the writers don't stop playing him as cutesy, I'm going to have a problem. I've always dug his sarcastic banter and critical questioning, but he's gone a bit soft of late. And it's not becoming. Writers? Please take note.
In a strange way, I'm going to miss Catherine.
Speaking of agendas, Mommy Grimm has got a few in her bag of tricks. We'll be seeing more of her — and them — down the line.
And if anyone thinks it's going to be easy as pie getting rid of the coins, well … you've got another thing comin' …
Turns out the capable-of-ravaging-a-village Mauvais Dentes wasn't so bad-ass after all, eh? Granted, he was pitted against a couple Grimm and Nick's skills have improved dramatically in light of his heritage, but I was expecting more out of that ferocious beast.
And, of course now that Juliette is alive and kicking (courtesy of Catherine and Renard, of all people), we can continue with that awkward relationship. But I have a gut feeling it's not going to be quite that easy. Things are really going to start mixing up now that she's out of her funk, so to speak.
Quotes:
"She doesn't know how close she came to getting her throat ripped out." — Monroe
"How sweet … maybe later." — Rosalee
Photo Credit: NBC