MasterChef – The top four are set
Two guys and two girls remain after this episode's Elimination Challenge. And that challenge came with a surprise: someone I thought didn't have what it would take to prepare the necessary visuals of the challenge dish.
- Season 3, Episode 17 - "Top 5 Compete"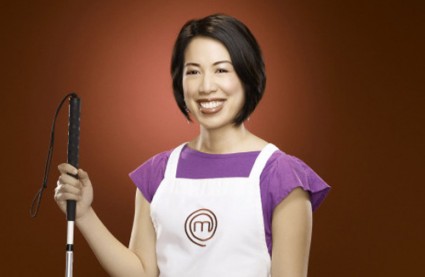 Here's my deal at this stage of the competition:
At the beginning of the season, I would never have believed Christine to be at the level she is currently … and against the likes of Frank and Becky. To be able to snag an Elimination Test from beneath the both of them — and with sashimi no less that needed to be recreated visually as well as palpably and doing so virtually blind — is a pretty amazing accomplishment. Joe was right when he discussed her tasting abilities and being able to see things in her mind and reproduce them — it's an amazing talent she's blessed with.
Frank has got it going on. Rarely does he disappoint. And he didn't do it this round, either.
She may have been whining about everyone expecting her to live up to the standards she's set for herself as well as those she's set during the season, but for Becky it's a good place to be … regardless of the fact she's getting her hand slapped. That's indication the judges are on her side and believe in her.
Josh? Solely on the weight of him being eliminated previously, that's reason enough for me to believe he shouldn't be in the Top Four. And wow … what a fail when he had such a huge advantage going into the challenge. Yes, it was ballsy to believe he could improve on Graham's dish, but that would have worked only if the dish had worked. The fact his creation was one of the two worst in the judges' eyes took away additional points and put him in a hole he won't be able to climb out of.
And Monti has seen it all, from the highest highs to the lowest lows. I agree with Gordon: She has nothing whatsoever to be ashamed of given the talents she possesses. I would have rather seen Josh get the boot, but Monti was neck and neck with him as to who was leaving based on their creations.
Note: I'm still sticking with Frank as the one to beat. But I know Becky is nipping at his heels. There's not much time left and everyone needs to be at their best. Any slip up spells doom.
Photo Credit: FOX