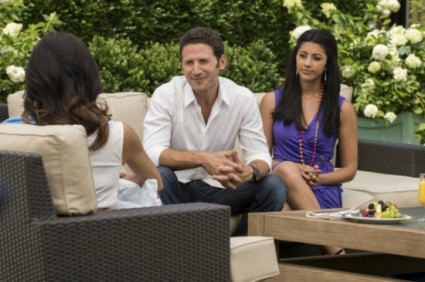 Well, they can't all be gems, can they? That's the question that seemed to float through my head as I watched last night's episode of the USA network's Royal Pains. It's okay though. There's always one off episode in every television season. What's funny is that this particular installment was actually directed by the guy who plays Evan — Paulo Costanzo … which isn't to say the episode was bad, but that it was just a little dull compared to others.
Still, there were things to be celebrated. Where do I begin? With Costanzo directing, Evan and Paige didn't have much screen time. It seems that Paige wants to forget the fact that she's adopted by enrolling in some sort of art academy … or something. I don't know. I really wasn't paying attention to this particular vignette. However, what I did enjoy was the story surrounding Jeremiah. You know, I really like Jeremiah. In fact, I think he's my new favorite character. Personally, I'm thinking he should replace Boris as one of the new leads since Boris was missing in action … again.
I really got a kick out of seeing Jeremiah come out of his shell when helping a singer with a medical problem. The scene of them dancing together in a nightclub brought a smile to my face. For a second, I thought the two of them were going to hook up, but I think it's clear that his heart belongs to Divya. Speaking of which, while I liked seeing Divya get some kind of sexual action, I kind of feel as though this whole thing is going to blow up in her face. Things are just moving entirely too fast for her. Didn't she just meet the man in the last episode? Sheesh. If her parents could see her now!
In other news, there was some medical case involving some baby nonsense that was going on, but what's more important is that we were left with an interesting cliffhanger — Hank asking Harper to be his girlfriend. I'm glad that the writers brought Harper back. She's pretty and friendly. We never got to hear her answer, but to be honest, I wouldn't mind the two of them as a couple. They have pretty good chemistry. I guess we'll have to wait until next week. So, will Boris ever return? Is Divya's relationship doomed? What will Jeremiah do when he learns that she has a new main squeeze? And more importantly, is Hank now in a relationship?
Ponder these questions and let me know! I'll see you next week!
Photo Credit: USA Network