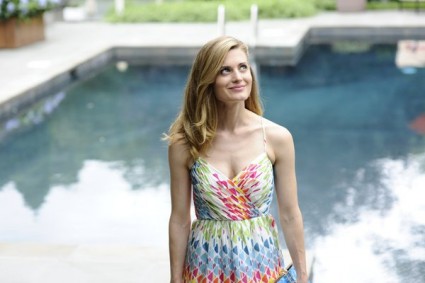 There's only two more episodes left before the summer finale of Royal Pains and I'd be lying if I said things weren't heating up. There have been mixed opinions regarding this particular season, but I think there have been more ups than downs. There's been a lot going on. No lie there. This episode certainly was eventful with storylines that were definitely pushed in the right direction.
One of those storylines is the one revolving around Paige being adopted. Evan was able to talk her into finally visiting her folks after her stern father paid him a visit asking for his help. However, how many of us anticipated Paige's biological mother showing up at the end of the episode to speak with her? I sure as hell didn't. Drama is definitely on the horizon. I find this plot to be fascinating because it seems that the writers are really using Paige to her fullest potential. This keeps Evan busy as well, and it's also infusing the show with a nice touch of suspense. Maybe this is the year of Paige.
Does the same hold true for Divya? Eh. Not really. You know, I like Divya. I really do. I'm glad that she's got a handsome main squeeze … but I'm just not excited about what's going on with her. It doesn't seem to be contributing anything new to the show. Last night, she hosted a party for her boyfriend in order to have her friends meet him … and that's about it. Sad. In my opinion, she hasn't been doing much lately aside from sleeping with her new lover. To be honest, I'm much more interested in Jeremiah and his secret crush on Divya than Divya herself.
Well, I guess that crush is not so secret anymore. Evan pretty much put two and two together, but Jeremiah is keeping mumb for now. I don't blame him. Heck, that's his business. I feel sorry for him having to see Divya happy with someone else. Who knows? Maybe her boyfriend will die and Jeremiah can move in. I really hope that Divya at least gives him some sort of consideration. He really is a good guy. I think he's awesome.
I also think Hank and Harper are awesome … but I believe they are moving a little too fast. Forgive me — but Hank seems to be a bit flighty. I don't want to get into a rehash of his relationship with Jill, but he sure isn't wasting anytime bed-hopping. Is he looking for a good time or looking for a girlfriend? That needs to be specified. Harper seems like a good girl, but I'd rather see them going on dates as opposed to be getting it on in Hank's car … at least not yet. Does Hank even know what he wants?
I ain't Dr. Phil.
I don't have the answer. However, maybe you do! Weigh in and give me your opinions! What will Paige do when she finds out that her biological mother wants to see her? Will Evan even tell her? Will Jeremiah win over Divya? And will Hank get a clue? Sound off below!
Photo Credit: USA