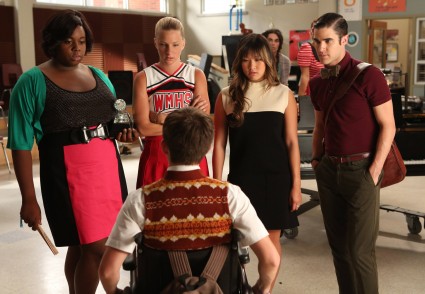 Entering its fourth season, Glee is at a crossroads. Many of the characters have graduated from McKinley High School, taking their stories far from the safe confines of Lima, Ohio. The departure of so much talent leaves a vacuum at the top of the New Directions call sheet. Will these changes be enough to right the Glee ship? The show's ratings have been slowly dropping, and critically the show leaves quite a bit to be desired. I've taken a look at the first episode and there's not really enough there to make me think things will be much different.
The first season of Glee – more specifically, the first thirteen episodes – were really great television. Musicals on television had been tried before and, for the most part, had failed. Glee brought more than just music – and its ridiculous secondary-revenue stream via online sales – to the table early on; it was a smart, tight dark comedy taking on the challenges of high school life differently than it had before. Unfortunately, somewhere along the line it lost that focus – many will point to season two, but I always attribute season one's "Theatricality" as the beginning of the end.
Since then, Glee has stopped knowing what kind of show it wants to be. If you're looking closely enough, you can almost see three different shows with the same characters and locations – one each for executive producers Ryan Murphy, Brad Falchuk and Ian Brennan. There have been some seriously good episodes, tackling stories like bullying and teen suicide. More often, though, the stories meander across the high school landscape, watching certain characters progress and regress at the whim of the story – I'm looking at you, Sue Sylvester.
Season four, sadly, solves none of those problems. Rachel is chasing her dream at NYADA, though things are not going so swimmingly. While she is at home behind a microphone, she clashes with her dance teacher, played by Kate Hudson. While I've been a big fan of Hudson since her turn in Almost Famous – and she's pretty good here – it's hard to believe her as a top-notch dance instructor when we know Heather Morris' Brittany could dance circles around her. Kurt is the only other graduated New Directioner that gets any screen time in the premiere. His NYADA rejection still hangs above his head, but by the end of the episode, where the story takes him is telegraphed like a billboard on the interstate.
With so many graduates, refilling the ranks of New Direction is an important task – though apparently the old requirement of needing twelve students to compete isn't a priority early on. New students Marley Rose (Melissa Benoist) and Jake Puckerman (Jacob Artist) are solid additions, though I think Marley brings much more to the table than Noah "Puck" Puckerman's half brother. I was not a fan of Wade "Unique" Adams last season, and I'm not a fan of him here. There are also some new antagonist students around McKinley, include a new Cheerio who is a teenage version of Sue Sylvester.
The other graduated students – Finn, Puck, Mike, Quinn and Santana – are mentioned, but there is little information on how their post-high school life is going. We will eventually see each of them, but I'm not sure that's going to be a good thing. Sure, I'd personally be sad if Quinn was gone for good, but manufacturing reasons for her – and the others – to appear hopefully won't be as awkward as I expect it to be.
I really want to like Glee. I was a big fan of the show when it premiered and was one of those that defended it while the quality slipped in the second season. Sadly, though, the show has just gone too far off the rails for me to be able to continue to do so. I'll still probably watch this season hoping to be proven wrong. If things don't change, though, it's probably the end of Glee for me.
Photo Credit: Mike Yarish/FOX