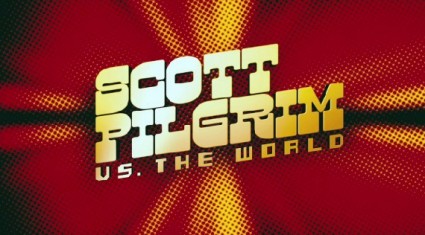 Today's Guest Clacker is Jeremy "Jermsington" Fogelman, a sometimes writer/blogger and amateur voice actor, and full-time television watcher based out of Washington DC.  Some of his attempts at writing and talking can found at his website.
As an fairly frequent reader of graphic novels and somewhat common player of video games, I probably should already have been aware of Scott Pilgrim. But, like most people, I missed this movie when it first came out to watch The Expendables instead.  A terrible mistake was made.
Scott Pilgrim was originally a series of ongoing graphic novels when the movie was first written by Bryan Lee O'Malley (check out the outdated official website) — eventually a total of seven books would be written, although O'Malley had only written the first five when the movie was written (this led to a few differences in the endings between the movie and the books). The name of the movie actually comes from the second volume, as it just "zings" a bit better.
The movie and books are ostensibly about an unemployed part-time musician from Toronto who falls in love with an American delivery girl named Ramona Flowers — only to discover he must first defeat her seven Evil Exes if he wants to date her. Simple enough, right? But hidden in the crazy magical death battles and love triangles is a sort of loving ode to nostalgic video games and, oddly enough, the city of Toronto.
Let's break it down:
Visuals: A shockingly-inventive film, which brings the medium of the comic books to the screen in a way not seen since Sin City. Edgar Wright (Shaun of the Dead, Hot Fuzz) shows a deft and whimsical hand in portraying the comic book in an eye-popping style. It's the sort of movie that demands rewinding just to see what exactly you didn't catch the first time.
Story and Characters: Mostly based of the books, of course, although most of the sideplots were excised to keep the movie from being eight hours long. It's not a perfect tale, but it moves quickly and has an actual story arc with multiple characters evolving.
Acting: Although Michael Cera is not that much like the original Scott Pilgrim in many ways, he certainly makes the character his own, bringing his unique brand of quirky awkwardness in an appealing manner. Mary Elizabeth Winstead plays the love interest fairly close to the source material, but sometimes that comes across a bit boring in live action. She seems a bit less awesome than in the books. The supporting characters, however, are uniformly fantastic, including Jason Schwartzman (Rushmore), Anna Kendrick (Up in the Air), Chris Evans (Captain America), Brandon Routh (Superman Returns), and Mae Whitman (Arrested Development). Kieran Culkin is particularly hilarious as Scott's acerbic roommate Wallace.
Overall: Why didn't I see this film when it first came out? I would've loved to see the movie on a big screen — although the DVD does come with a great collection of extras, including two full-length commentaries, thirty minutes of extra footage, and even an alternate ending. I would recommend this movie for anyone that enjoys fun — if you don't, it's probably not the movie for you. And the graphic novels aren't bad either. The movie genre of this film can be considered a sort of slacker comedy / over the top action parody fusion. Full of easter eggs for lovers of comic books and video games, the movie is still a fun and actually moving experience even for those who don't know who Mario is — although if you do, perhaps you'll enjoy the movie even more.
Photo Credit: Universal