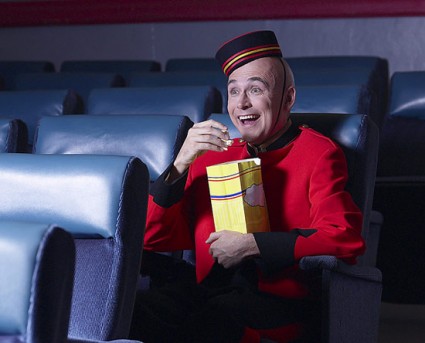 Movie lovers: A new movie service — MoviePass — is rolling out an interesting promo giving subscribers the opportunity to view an unlimited number of films in theaters. Is this a deal?
Let's dissect it a moment and look at Option #2 of the promo first (the easier of the options in my opinion), shall we?
At $30.00 for 4 flicks, it works out to $7.50 a pop. Pretty good deal if I do say so myself. (When was the last time you were at a first-rate film for less than $8.00?) But it depends on lots of things: your bent on the films you want to see (and if there's anything out there you want to see), if there are films out there you "need" to catch up on, etc. At the $30.00 price point, that's a film a week on average. Is that something reasonable in your monthly schedule? Obviously, the purchaser of this promo needs to do some homework to make sure it's worthwhile, but it sounds like a pretty spiffy deal to me.
Now Option #1, the main draw, is something altogether different. The unlimited package pretty much gives you ample opportunity to spread your ass in a theater seat as much as you'd like, all the while giving you the option of clogging your arteries with whatever it is theaters use for butter on popcorn these days. (Popcorn and butter flavored goo is not part of the deal.) I mean, we're talkin' a basket-load of movie watching in a month. You could go "wild in your seat" at all that big screen viewing. For the film-o-phile, it's darkened theater heaven. But how many of those people are out there? Are you one of them? How many times can you take in a flick during a month anyway? Again, if you're going to participate in this, planning comes into play to make sure you get the full benefit of the deal.
I'm sure there are all sorts of restrictions and the like attached to this seemingly fantastic offer, but what are they exactly? The article doesn't say.
But let's forget about that for the time being and get right to the heart of the matter: is this something the Average Joe would dig? If you have relatives coming to visit for the summer or the holidays, this might be right up their alley, a good way to amuse them for a relatively inexpensive outing. How about for vacationing teenagers? You get the idea …
Personally, I know if I could dig deep and plan a particular month, this item would be pretty cool. The CliqueClack crew is split down the middle on MoviePass for the most part, but how about you?
UPDATE: … and then, shortly thereafter, the hammer came down …
Photo Credit: chimovement.com