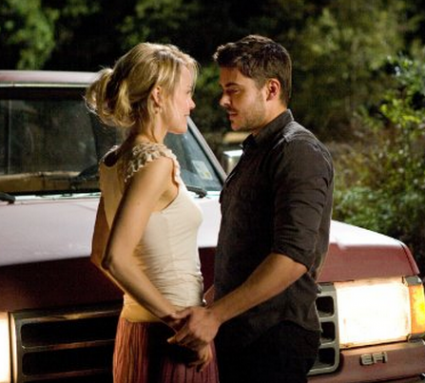 People who know me know that I have a very unusual set of tastes when it comes to flicks. My favorite films include The Godfather and Varsity Blues – yes, that Varsity Blues. I hold that how much you like something isn't necessarily tied to its quality. There are some great, great films out there that I recognize as such, but don't necessarily love. It shouldn't come as much of a surprise, knowing all that, that I'm a sucker for a sappy Nicholas Sparks stories – except The Notebook; I have to admit that film put me to sleep. The Lucky One fits perfectly into that pantheon of serviceable, but nothing special, romantic films.
Teen heartthrob Zac Efron (Charlie St. Cloud) plays Logan Thibault, a former Marine (excuse me, there's no such thing as a former Marine) recently completing his third tour of duty in Iraq. During his last deployment, he happened upon the laminated picture of an unknown woman, which soon proved to be a mighty lucky charm. Now back in the States, he walks across country to find the woman and thank her. When he tracks down Beth Clayton, played by Taylor Shilling (who was incredibly underappreciated in NBC's Mercy) he settles into her small town while he tries to find a way to explain to this woman he barely knows why he's there in the first place. You don't have to be a genius to figure out what happens next.
The secondary cast is good, but the list isn't that deep. Blythe Danner (Meet the Parents and so much more) plays Beth's grandmother, who raised her and her brother when their parents died in a car accident. Riley Thomas Stewart (whom I didn't recognize as the actor who plays Young Barney on How I Met Your Mother) plays Beth's son Ben from her previous marriage to town golden boy — and royal douchebag — Keith (Jay R. Ferguson, Mad Men). One wouldn't be making a large leap to assume Keith isn't so happy about Logan coming to town.
Saying that The Lucky One is a straightforward, paint-by-numbers drama is true, but it isn't meant as an insult. People don't read Sparks' books, or see movies based on those books, to have their expectations subverted. No, all of the regular elements are there: couple meets cute, starts to fall in love despite original differences/obstacles and ultimately overcomes a secret that threatened their relationship.
As I mentioned earlier, I am a big fan of Shilling's work, and she handled her character's limited path well – she was given one big, powerful moment, and knocked it out of the park. I was not necessarily a big fan of the choices Efron made with Logan. I think the idea was to play the character trying to be low-key, holding back the massive swirl of emotions tied to his PTSD. Unfortuately, the character just comes across flat. I liked Efron in the aforementioned Charlie St. Cloud – see, I told you I had odd tastes – but there was just something off about his performance here.
I mentioned Logan's PTSD – if there's a more appropriate clinical name, please remember I'm not a doctor, nor do I play one on TV. As someone who is a big supporter of the military and is confronted with the horrors that our returning service members face on a daily basis, I wish this had played a larger role in the film. It could have served as a great educational piece, and was an opportunity missed in that regard – especially the work Logan was doing with animals throughout the film. Perhaps that was the intention, and I didn't buy into it because of the way Efron played the role.
Photo Credit: Patti Perret/Warner Bros. Entertainment