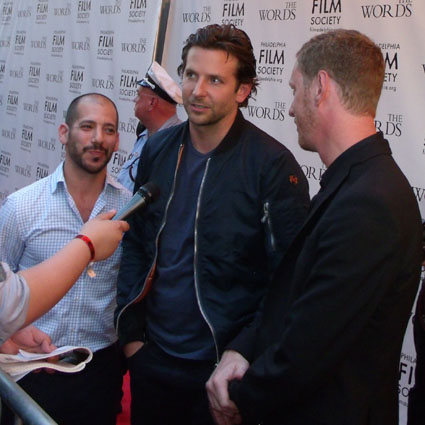 I love when premieres happen on the East Coast, especially in Philadelphia. As one who resided on and off in Philadelphia since her undergraduate days, I formerly saw it as a lesser New York. However, I'm quickly revising that opinion. In the past year, especially this summer, Philadelphia is increasingly reconstructing itself as a film mecca. With the filming of scenes from Political Animals with Sigourney Weaver (USA), Paranoia with Liam Hemsworth and Gary Oldman, and Dead Man Down with Colin Farrell and Terrence Howard, as well as the film premieres of The Words and Think Like a Man, it looks like Hollywood's slowly jumping on the Philly bandwagon.
I give partial credit for this to Sharon Pinkenson, Executive Director for the Greater Philadelphia Film Society; partial credit to Mayor Michael Nutter; and partial credit to the filmmakers and stars who have ties to Philadelphia and want to see it featured further, including the native Philadelphia writers/directors/star/producers of The Words — Bradley Cooper, Brian Klugman, Lee Sternthal and Jim Young. I grabbed a quick minute with Sharon Pinkenson on the red carpet to ask her thoughts on attracting more film premieres and film productions to the Philadelphia area. "Well, obviously the more activity there is in film whether it's in production or premieres, warms my heart. That's what we do. I'm very excited about it. It means more jobs for local people. It means vendors get to have their products and their services in front of Philadelphia. So, it's great for the economy. And, it's really good for how Philadelphians feel about themselves living in a movie town."
I also managed to talk to Jim Young, one of the film's producers from Animus Films, about how he connected with Brian Klugman and Lee Sternthal, the writers/directors, and how they constructed the amazing cast, including Bradley Cooper as Rory, the lead; Zoe Saldana as Dora, his wife; Jeremy Irons, as the old man; and Olivia Wilde as the ingénue; as well as Dennis Quaid, Ron Rifkin, Ben Barnes (Prince Caspian, Stardust), J.K. Simmons (The Closer, Law & Order), Michael McKean (Smallville, Law & Order: SVU) and Zeljko Ivanek (The Bourne Legacy, Heroes, The Mob Doctor). Seriously, The Words is a casting list of actors' actors. If you don't recognize the names (which you should), you'll definitely recognize the faces.
Regarding getting involved with the production, Havertown-born Young stated: "I'm also from Philadelphia as they are [Brian and Lee, the writer/directors] and as Bradley is. And, we watched Eagles games on Sunday together. We had a friendship before we got involved with the movie. When we read the script it was one of the most beautiful scripts we ever read. As soon as we read it, it was one of those things where we wanted to jump in and get involved immediately."
Concerning how they attracted the who's who of actors, whose individual talents I personally respect, Jim credited the script and the directors: "It was a script that was originally written 13 years ago. It was on the Sundance Screenwriters Lab and it was on the Blacklist. There have been different people circling around it for years. Bradley was the guy that Brian and Lee knew from childhood and had always envisioned to play Rory, the protagonist in the movie. Shortly thereafter we got Jeremy Irons to come on board. And then slowly but surely the rest of the cast came together. Everybody sort of says the same thing. It was the most unique, interesting script they read in ages. They really came on it based on the script. When they talked to Brian and Lee as filmmakers, once they met them, everybody jumped in."
Photo Credit: A. Nicholson
This Post Contains Multiple Pages: 1
2