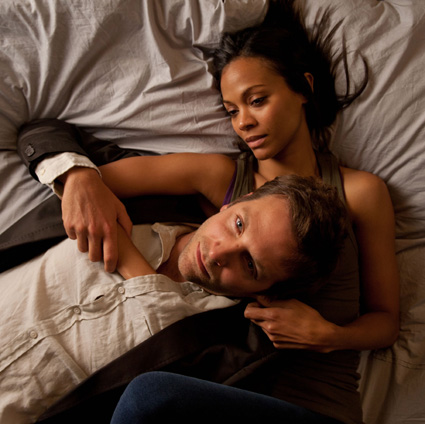 Like everyone who ever lived in Philadelphia, I have a Bradley Cooper story. Back in the late '90s and early '00s when he started to make his name with Sex and the City and The $treet, I worked in the Philadelphia suburbs. My officemate lived in the same town as his mother and coincidentally worked out at the same gym. Now, my officemate, for all her intelligence, was slightly ditzy, a newlywed (who barely noticed other men) and one of those people who never watched TV or films (to my consternation). This explains how every morning for a week she'd work out on a treadmill next to Bradley Cooper, chat with him, and walk out to the parking lot with him without ever knowing who he was until one of the gym-goers finally told her.
At the time I didn't understand how she couldn't see the Hollywood magic dripping off of him, until I hit the red carpet premiere for The Words and met him again in the pressroom interview. Despite his piercing blue eyes, lustrous wavy hair and chiseled cheekbones, he didn't strike me as a guy I'd wantonly throw myself towards. Instead, he struck me as someone I'd rather grab a beer with at the local bar. In fact, that was practically the interview's underlying theme: casual conversation and friendship.
Just as The Words is the story of three men seeking their writing destiny, the making of The Words surrounds three men uncovering their writing/acting goal through a script that existed since the late 90s. Just as The Words surrounds the effect of writing on the individual men and their families, so the creation and production of The Words affected and continued to bond lead actor, Bradley Cooper, with longtime friends and writer/directors, Lee Sternthal and Brian Klugman.
If the post-screening Q & A session gave me the feeling of homecoming, the pressroom interview gave me the feeling of friends, trust and childhood memories. The entire interview surrounded watching the lead actor, Cooper, and the writer/directors casually interact with each other. In the interview Cooper stated, "I felt so safe with them as directors. They allowed me to open up. Whenever you feel safe on a set you really can explore more and more … because when you're a kid, you want to create with your friends, and that's what I got to do."
Although The Words is a serious film, the writers, directors and star are not serious people. Cooper, Sternthal and Klugman all lit up when describing their childhood Philadelphia memories. Sternthal and Klugman met at Pine Forest summer camp, doing the summer shows, while Cooper and Klugman spent lazy Sunday afternoons watching Apocalypse Now and The Deer Hunter. While Cooper spent his summer childhood at the Jersey shore visiting the Brigantine Castle (which burned down in 1987), Sternthal spent his summers fishing with his grandfather and Uncle Sam.  Klugman and Sternthal still watch Eagles games in LA bars at 10:30 in the morning with an expatriate Philadelphia contingent. In case you were wondering, Carnal Knowledge is a favorite of all three. It's odd how their Jersey shore childhood mirrors my own, but that's probably why a lot of native Philadelphians relate to Cooper so easily.
Photo Credit: CBS Films, An Nicholson