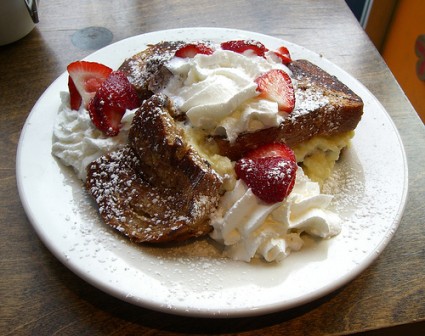 I know, I'm paying attention — Valentine's Day was yesterday. In our household, though, Sunday is the big breakfast day, the one that we linger over , savoring every delectable bite… as our four-year-old begs for cartoons and computer time. But hey, we take what we can get, and the kid does know how to eat, so we enjoy cooking some elaborate breakfasts on Sunday mornings.
So here are some extra-special breakfast recipes you can celebrate with or sink your teeth into on any ol' weekend morning.
Camembert and Apple Omelette with Champagne Normande — Yes, apple and cheese is divine any way you serve it, but wrapped in eggy goodness and served with a champagne cocktail elevates it to new levels of Yum.
Fresh Fruit Omelet — This isn't just egg with fruit shoved inside it, people; this is a spectacular creation with creme fraiche, honey, cinnamon and goat cheese.
This collection of Valentine's Day breakfast recipes includes Belgian waffles with cherry sauce and stuffed French toast, just to name a couple. There are some breakfast casseroles too.
Heart-shaped Egg in a Nest — C'mon, get yourself a heart-shaped cookie cutter and try this easy (cutesy… ) toast with a twist. Awwww….
And here's a healthy version of stuffed French toast that gets the green light even for diabetics.
Photo Credit: Kim Scarborough / Flickr