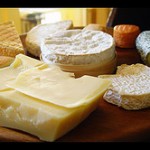 Dude. I hate vegans. I literally cannot listen to somebody say the phrase, "I'm a vegan," without groaning and rolling my eyes. To me, being a vegan is on par with knowing a lot about wine or reading 19th century poetry in your spare time: you're clearly a pretentious asshole and any conversation we would have would inevitably be so boring that I'd want to jump out a window… into a carcass of a cow. Wait, maybe that doesn't make any sense. But maybe that's because I'm drunk on boxed wine and good old fashioned cow cheese.
I'm a vegetarian and I try to stay away from leather and other animal products, but I swear to God; nothing makes me want to kill a cow more than having a conversation with a vegan. That's why I never talk about being a vegetarian or get offended when people think it's stupid. I cannot in any way blame someone for saying, "you're an idiot; steak is delicious," when any time I'm in the same room as a vegan, my reaction to them is, "you're an idiot; cheese is delicious."
It's been my experience, and maybe this is just a product of going to college at a liberal arts school, that the type of person who decides to become a vegan is the type of person who comes from a nice family, but is super-pissed about that fact. They're bothered by the fact that they had it so easy, so they grow dreads, stop showering on a regular basis, and get stupid tattoos of shit in languages that they do not speak. "Oh, that? (haughty sniff) That means 'freedom' in Sanskrit," like I'm supposed to be all impressed that they got some stupid tattoo on the inside of their elbow or whatever.
When I was 18, I got a tattoo too. Not because it was deep and meaningful, or because it had some sort of spiritual significance for me. I got a tattoo because I'm not a tattoo person and I thought it would be hilarious; and guess what? Ten years later that shit still makes me giggle.
So these dreadlocked ratty jeans-wearing motherfuckers always try to talk to me when they find out I'm a vegetarian; like that makes us kindred spirits or something. I'll never forget the time I was eating with a friend of mine and her vegan friend got on her for putting honey on a biscuit because "honey hurts bees." My friend had a look of utter confusion, and the dude gave me one of those cringeworthy "amIright?" looks. Well, I laughed in that dude's face.
I mean, I know that bees are important and they pollinate stuff and we kind of need them, but fuck bees. I put my hand on a fence when I was in the first grade and one of those bastards stung me. If I saw a bee right now I would smack that bee in the face. And pour honey right on its stupid head.
Now I know I'm making broad generalizations and what some would call unfair statements, and I'm sure there are some people who are going to read this and try to tell me about the fact that they're a cool vegan, or they know someone who just has weird allergies or whatever, but I don't care. I'm not saying that 100% of vegans are like what I've said: that would be asinine. However, 100% of vegans who have been in my world are — and that's all that matters.
But I don't have hate in my heart. I love people and enjoy embracing our differences. I would love to meet with any vegans I've offended and make it up to you. We'll go out and get some ice cream.
Photo Credit: http://www.flickr.com/photos/cuse