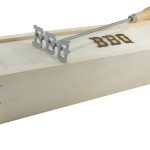 With Father's Day just around the corner, I thought I would step up for all the dads out there and give you all some ideas of cool gifts that Dad will really like to get. I know that when he unwraps the tie, or golf socks, or the "landscapes of the world" calendar he says he loves it and is happy, but really he is thinking, "Please, just one cool toy to play with." Wake up people — dads are just really big boys. Boys hate clothes and stuff for gifts. They want toys!
First up in my gift idea list is the Monogrammed Steak Brander. This thing is awesome. It is monogrammed so Dad can brand his initials into that perfect steak he has worked so hard to grill for you. It comes in both classic and western styles. The branding iron is 13 inches long and the head is 1 inch tall and approximately 3 inches wide.
Is Dad a big college sports fan? Get him the College steak brand for his favorite school. These irons are made of stainless steel, weigh about 3 pounds and the heads are 3 inches in diameter. They heat easily on either a gas grill or a charcoal BBQ.
There are Nascar brands, American brands, Number brands, Traditional brands, Outdoor brands.
What about getting Dad a gift set? This set includes two brands, one for Mom and one for Dad and includes wood branded steak plates.
I guarantee if you want to put a real smile on Dad's face this year on Father's Day, get him one of these branding irons and he will be happy.
Photo Credit: brandmysteak.com