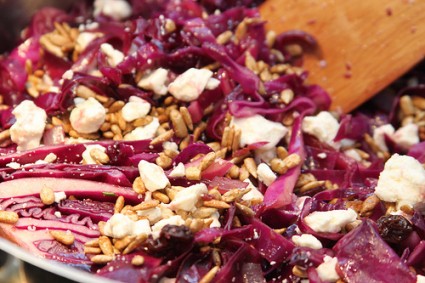 You only think you know how good this recipe might taste. I'm pretty good at reading recipes, in that I can tell not only what a recipe will taste like, but also what to alter to make it better.
I left this one completely alone.
My carnivorous husband, who moans and groans when I serve a vegetarian dinner, said he'd eat this dish as a stand-alone meal. He just offered that information, mind you, he was not asked.
Are you convinced yet?
I lied a little bit when I said I cooked the recipe exactly as was directed. I didn't have a red onion, so I used a yellow one instead. Also, no golden raisins so I popped in the regular old brown ones. Finally, I used pecorino romano instead of parmesan for the sprinkling of cheese at the end.
A word to the wise: Don't skip toasting and sugar-coating the sunflower seeds. I almost did, because I am basically a lazy cook. They are so amazingly delicious (and I've discovered a new snack!) and combine with the other flavors so well. It is worth the extra step and pan.
Heidi Swanson has never let me down, and she just secured her spot in my gastronomic heart with this recipe. It's so simple to make and has very few ingredients, but each one is integral — and crucial — to the success of the dish. The flavors meld together perfectly.
The next time I make this, I'll probably serve it with some curried chicken breasts, or maybe I'll just add some chick peas for a vegetarian entree.
Photo Credit: Debbie McDuffee