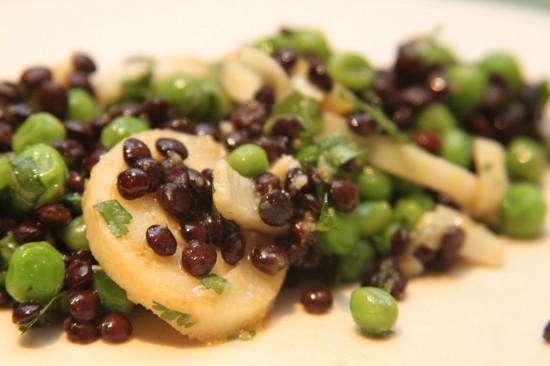 I'm not sure I know anyone who isn't attending or hosting some sort of 4th of July celebration this weekend. And why not celebrate? The kids are out of school, looking forward to a fun summer and there's something patriotic to remember… with sparklers and loud things.
You're either making or bringing a side dish to go with those burgers and dogs, so you may as well bring something new. I'm pretty sure if you showed up at my door with a potato salad dripping with mayonnaise that I wouldn't let you in, and that rotini pasta salad with the bottled Italian dressing … well, there's really no excuse.
These side dishes are easy to make, crowd-pleasing and non-offensive to your mayophobic hostess. What do you mean, your Aunt Sally isn't afraid of mayonnaise? Well, she'll like the following recipes anyway.
Tabouleh says summer to me. Maybe it's because I've got most of the ingredients growing in my garden: tomatoes, mint, parsley, scallions. You can try the traditional tabouleh recipe made with bulgur wheat, or make it with quinoa instead, my favorite way.
Grilled zucchini and chick pea salad has a lovely tahini dressing and is so summery with the zucchini charred to perfection on the grill.
If the thought of quinoa with your tabouleh made your ears perk up, perhaps you'll enjoy pesto quinoa with corn and baby spinach. This one might corner the market on summery, but don't tell the grilled zucchini.
Remember Aunt Sally? Gourmet potato salads for the mayophobic, more potato salads for the mayophobic, and even more potato salads for the mayophobic should just about cover it. We've got your back, Aunt Sally.
Talk about refreshing …. this fennel, arugula and green apple salad is crisp and balanced and sweet and tart and goes with just about anything.
Instead of a traditional cole slaw, try this red cabbage salad. You'll enjoy the sweet crunch and uniqueness at your cookout feast.
Aw, Heidi Swanson gets me every time. Her summer green bean salad sports cherry tomatoes, fresh herbs, lemon juice, honey, cream and hazelnuts.
If you're bringing the green salad, try my favorite gourmet mesclun salad. It's got minimal chopping and enough unique ingredients (but easy) that your guests will be impressed … and toast those pine nuts. Or, Kona's vegetarian caesar salad might fit the bill.
I've done two versions of black lentil and sweet pea salad. This is the first, and it's full of scallions, fresh basil and mint and sherry vinegar. Then I riffed and came up with sweet pea, black lentil and hearts of palm salad, this time using cilantro, lime juice, tamari, rice vinegar and ginger. Take your choice — they are both delicious.
Roasted broccoli salad with red pepper vinaigrette — need I say more?
This light and easy carrot and snap pea salad can be dressed up a thousand different ways if you so choose, but the flavors of the carrots and snap peas speak for themselves.
There are so may ways to make a black bean corn salad, but I did one this week with fresh basil, lime juice and balsamic vinegar that was just about perfect. I'd like to say that someday I'll post the recipe, but I didn't write anything down .. I'm becoming my father.
My mother makes the most delicious chopped salad with honey lime dressing … she totally stole it from Epicurious, but sometimes she pretends she doesn't remember where the recipe came from. She's like that.
Last but not least … if you've got a little extra time on your hands, there's nothing cooler than serving homemade ketchup at your barbeque.
Photo Credit: Debbie McDuffee