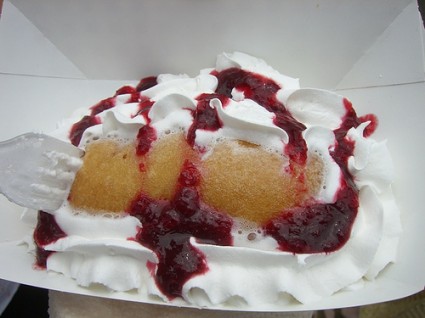 A. Camille Nicholson is a graduate student in Cultural Studies and English Literature. Although she worked as an E-Commerce Developer during the .com's height, she attributes her burgeoning interest in the culinary/baking arts to her volunteer duties at a local non-profit bakery and the past two years teaching cooking classes for kids.
I have loved the Twinkie since the dawn of my birth. As a child of suburban New Jersey in the 1980s, my fuschia green lunchbox frequently entertained the usual elementary lineup: Watermelon Ssips, a bologna or peanut butter sandwich, chocolate milk (which inexplicably required school permission), and a member of the Hostess snack cake family — typically, its irascible younger sibling, the Twinkie.
I have consistently defended the Twinkie against verbal assaults from more nutritionally minded acquaintances. However, the Twinkie's reputation is slightly better than what they assert, although, admittedly, by a small margin. Surprisingly, one Twinkie provides only 150 calories and 4.5 grams of fat. Although it contains corn derivatives and two types of glycerides, the only preservative embodied within its banana yellow sheath is absorbic acid. When introduced in 1933 during the Great Depression, its offering of two cakes for five cents assisted those enduring financial deficit.
Additionally, the Twinkie participated in the war effort. During the 1940s, the Allies wove banana peels into mats to prevent German troops from landing along Britain's shores. The Continental Baking Company, at the behest of the National Board of Strategic Banana Reserves and Rationing, ceased to make banana flavored Twinkies. And, in the 1960s, the rumor of long-lasting Twinkies made the snack cake a favorite for bomb shelters.
Considering the childhood memories nestled within the oblong shape, I was unsurprisingly overjoyed to discover my ability to create them from scratch without undergoing the shame of purchasing a family-pack in-store, as a non-family person.
So, if you want to create your own 'Twinkies' or cream-filled cakes, feel free to follow the instructions below. I particularly owe gratitude to the site that reprinted the Vegan Lunchbox's recipe.
Homemade Twinkies
- Get a normal cupcake/muffin tin. If you want the oblong shape, Hostess sells its own Twinkies Bake Set, but you can purchase a 'petite loaf pan' for around $10-12 from any bake or craft shop such as Michael's.
- If you're feeling lazy, use a box of yellow cake mix and follow the directions. However, if you're feeling more adventurous, make your own batter from scratch. However, I suggest using cake flour (which is lighter) and omitting the peaches.
- As usual, Pam the pan, preheat at 350, cook for about 15 min, and cool.
- To make the cream filling, use the typical buttercream frosting recipe . If you have a pastry bag injector (or a quart-sized Ziploc bag with a pastry tip), fill the bag with the frosting until partially full. Now, here comes the magic which made me enamored with Twinkies from childhood on. Stick the pastry bag into the center of the muffin and squeeze until the cream enters the cake and a bit of overflow appears at the cake's top. If you used the canoe or petite loaf pans, insert three holes into each snack cake. Feel free to fill some with strawberry jam for a healthier and adult treat.
- If you want, stop there and enjoy your moist, buttery snack. However, if you secretly desire to seep those lovely lasso cakes in a vat of hot boiling liquid, continue on your quest.
- A nice offset of creating homemade Twinkies is that they feature half the fat (and half the cost, as one box of cake mix yields almost 20-25 cakes).
Deep Fried Twinkies
- Freeze or refrigerate the cakes for 2-4 hours (to prevent disintegration and oil absorption).
- Once thoroughly chilled, roll the Twinkie in flour, dip into an egg beater batter, and roll in flour again.
- In the meanwhile, heat four cups of vegetable oil in a large, covered soup pot until it reaches a boiling point. Once it is hot enough, reduce the heat to a simmer. When you sense the oil will no longer rebel against you, uncover the pot, and insert your cake into the oil. Allow it to remain for 30 seconds (but no more than 90-120 seconds) and use metal tongs or a fork to submerge and rotate the Twinkie. Leave it in for the full time limit if you want a crispier snack cake.
- Fry 1-2 cakes at a time until complete.
- Enjoy with whipped cream and a glass of milk.
On a side note, because the homemade snack cakes lack cellulose gum they will absorb less oil and might not require the glass of antacid that I will still suggest you keep on standby.
Photo Credit: daniel spils / Flickr