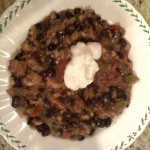 If you enjoy finding new recipes, trying them, and tweaking them, you've got something in common with today's Guest Clacker, Kelly Estes. She loves the aromas and unbeatable taste of homemade food, (as does her family). A former newspaper journalist, she's now a freelancer who writes about food and politics, although not together! (Twitter: kellyestes)
Making tasty leftovers is one of my regular challenges. With a 3-year-old boy who frowns on anything remotely spicy, and a 7-year-old girl who has an adult's palate, except when it comes to beans, the chef part of my job is always interesting.
Last week, after sauteing four pork rib chops for dinner, I had two left over for another meal. The next day, around 5:00 pm, I realized creative cooking was called for to avoid having tough, leftover pork chops. I quickly decided on a pork chili. Setting my pot on low heat, I diced about ¼ of a large onion and half a green bell pepper, and threw the diced vegetables in after pouring in about 1 tablespoon of EVOO. Looking in my pantry, I took out a 10 oz. can of mild Rotel and a 15.5 oz. can of black beans. After the onion and bell peppers had sauteed for about 10 minutes, I poured in the Rotel and rinsed black beans. Since the mixture looked a little thick, I also added about ¼ cup of water.
A perusal of my spice cabinet turned up one problem: I had run out of regular chile powder. I did have chipotle chili powder, which I had bought before I realized how spicy it was, and how much my son disliked it (way too spicy for him). Another check in my refrigerator uncovered leftover chicken from a roasted chicken, enough for my two children to eat. Whew! That meant that even if the pork chili was a little spicy, I still had (non-spicy) chicken for my kids to eat.
I added 1/8 teaspoon of the chipotle chili powder (my major error), ¼ tsp. of cinnamon, 1/8 tsp. of allspice, and 3/4 tsp. of cumin. I then let the chili simmer on low while I chopped up the two leftover pork chops into bite-size pieces. Once the chili had simmered about 10 minutes, I threw in the chopped pork and stirred the mixture together. I set the timer for 10 minutes, and took out the leftover rice, putting it in a bowl with a lid, along with a little water. It would take about 2 ½ minutes to microwave the rice, so I just needed to remember to do that at the last minute. While waiting for the chili to come together, I put the roasted chicken on a platter with a little water at the bottom of the platter. I've found the water helps the meat not get tough when it is microwaved. I chopped up a zucchini and microwaved it.
Bzzzzz. As the timer buzzed, I hurried over to taste the concoction. Whew! The spiciness rocked my taste buds. It was waaaay too spicy. Trying not to panic, I looked around for something to cool the chili down a little. Spying a 15.25 oz. can of creamed corn, I opened it and threw that in the pot, and let it simmer for about 5 more minutes.
Another taste test of the chili, and I declared it spicy and good. The creamed corn blunted the overwhelming heat from the chipotle chili powder in the pork chili. What a relief, considering that my husband and I had nothing else to eat if the chili was not edible.
I served the chili in a bowl, with white rice on the bottom, and a dollop of fat-free sour cream to my husband and myself. My kids enjoyed leftover roast chicken with rice and zucchini. I silently declared dinner another success.
Though the chili was still quite spicy, I found it to be very addictive, and ate the entire bowlful in front of me. The spicy pork chili certainly cleared out my sinuses and left my mouth tingling a bit. One thing is for sure: I need to purchase regular chili powder for my pantry!
I know that I am not the only one with a leftover story to tell. What is yours?
Photo Credit: Kelly Estes