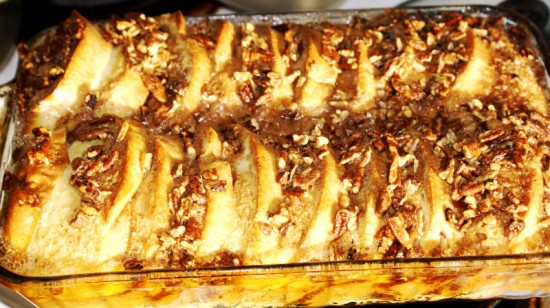 Happy Easter everyone. My wife and I have been very busy this weekend getting ready for Easter today. We spent the day yesterday making a chocolate cake, potato salad, bread, and peanut butter chocolate chip cookies. After that I made Shepherd's pie for dinner. Everything turned out great so I decided to try something new for breakfast this morning to start Easter off right.
I have to say that the Food Network is one of my favorite channels to watch. When I am not watching The Outdoor Channel or History channel I am watching The Food Network. One of my favorite Food Network stars is Paula Deen. Paula is awesome and when I saw this recipe from her for Baked French Toast Casserole I just had to try it. This is a fairly easy recipe and it was so good. And talk about filling. One helping and I was full and will be for some time to come.
This Baked French Toast Casserole is a bit time intensive in that you have to prep the French bread the night before. Add the sliced bread and egg mixture to a 9X13 pan and refrigerate over night. Then the next morning  mix the praline topping, spread it over the bread and bake for 40 minutes. I was not sure what the praline topping would be like, but when I mixed it up and tasted it I thought it was pretty good and when the dish was done it was awesome. Some butter, brown sugar, chopped pecans, corn syrup, cinnamon and nutmeg and the flavor was all through the bread. After baking, the bread was crispy on top and almost a bread pudding underneath. the bread still held together well and was not soggy but was soft, tender, and juicy. Top this with some maple syrup and a side of breakfast sausage and you have a great breakfast to start your Easter.
For dinner tonight we will be having Lorie's baked beans, BBQed chicken thighs, potato salad, and for desert chocolate cake and chocolate ice cream. I am going to be on a diet for a month just to undo the food for Easter, but it is going to be worth it. The grand kids are supposed to be here this afternoon so we have a dozen Easter eggs for my 18 month old grandson to hunt for which will be his first Easter egg hunt. This should be a great day and I hope everyone has as great an Easter.
Photo Credit: Jeff Love