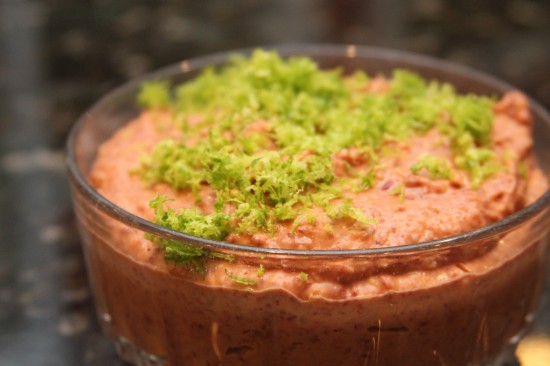 Is it wrong to be tired of black bean dip and hummus? OK, I guess I really love hummus, but I just didn't feel like making it when I knew I'd be entertaining this weekend. What can I say — I longed for a different legume.
I wasn't sure exactly what I'd do with a kidney bean dip, so it was Nigella Lawson to the rescue, and boy did she win the medal of honor for most heroic dip save of May 2010. Her red kidney bean dip was exactly what I was looking for — not Middle Eastern, not Italian and not Mexican, this dip had a personality all its own.
And not only was the taste perfect, but the recipe was perfection in and of itself. I didn't change a thing (which never happens) and I made a couple of batches at different times and they both came out divine. I was tempted to take a shortcut and just use lime juice and skip the zest — you really, really don't want to do that. The zest adds such a perfect finish to the dip, it's worth the trip to the store to buy real limes.
The thing is, it's a really simple recipe with very few ingredients. I don't admit this often, but this time, it's all about technique. Most dips, I just chuck everything into the food processor, blend and serve. Instead, this recipe has you cook the onions, garlic and eventually add the beans and spices as well. The cooked onions add a hint of sweetness, when coupled with the cinnamon and the lime juice almost trick you into thinking you added sugar or the like.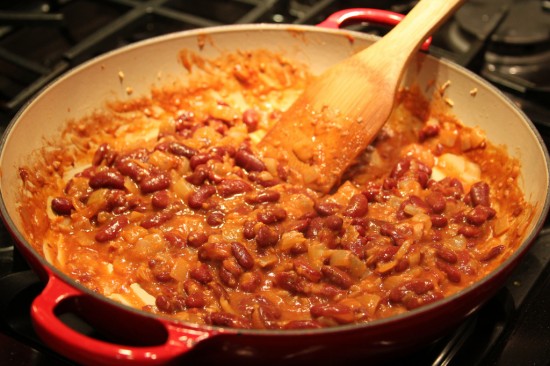 The one thing her recipe doesn't specify is what to serve it with, but I chose organic yellow and blue corn chips and scored. Not sure that crackers, veggies or bread would make the perfect pair that this dip and corn chips did. The salty corn chips play off the pseudo-sweetness of the dip and you wouldn't want it any other way.
It was a hit with both crowds that I served it to, and the only reason I had to make the second batch was because I couldn't keep the husband and child out of it to save it for the next day. When a five-year-old emphatically proclaims, "This is so delicious!" then you know you've got a good thing going.
Thanks Nigella, for a simple, innovative dip that wasn't made with chick peas or black beans.
Photo Credit: Debbie McDuffee