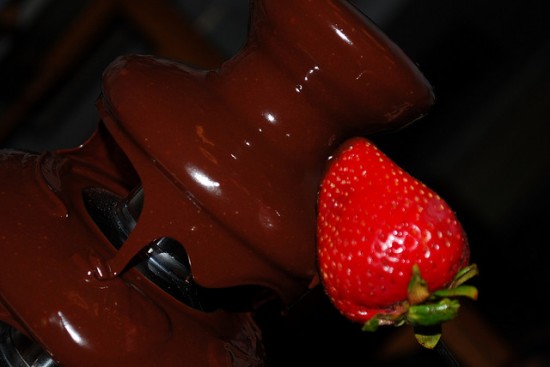 Picture this timeless romantic tableau, courtesy of The Rubáiyát of Omar Khayyám:
A jug of wine, a loaf of bread and thou
Beside me singing in the wilderness
That's all well and good. Lovely even. But there's something missing which might make it simply perfect: cheese and chocolate.
This is where a classic comes in. Fondue. It's my favorite romantic meal and it's SO easy to create at home for a dinner for two or a treat for the kiddos. Check it out. …
First, the right equipment is rather crucial to the fondue experience. The fondue pot, that copper relic from your parents' '60s dinner parties, has been updated and streamlined and is available for not a lot of coin at Target, in the event you don't have one.
I have used a mini crock pot in a pinch in lieu of a real fondue pot – most memorably during a dinner "party" in college designed to impress a gentleman friend but which turned into a celebration of very cheap wine and party crashers. (PS: I did impress my gentleman friend when all was said and done and those people left the apartment. But I digress.)
The great thing about fondue is that it's all about two things: prep and assemblage.  My favorite recipe is a time-tested one, originally printed in Gourmet magazine in 1966 and currently shared on Epicurious.com. I adapted it a bit after a couple of test drives – but it still proves that you can't beat a classic.
Cheese Fondue

Print This Recipe
Ingredients:
1 garlic clove, halved crosswise
1 1/2 cups dry white wine (I like a dry Riesling or Sauvignon Blanc)
2 teaspoons kirsch liqueur
2 tablespoons cornstarch
1/2 lb Emmental cheese, coarsely grated (2 cups)
1/2 lb Gruyère, coarsely grated (2 cups)
1/4 lb Appenzeller, coarsely grated (1 cup) (optional, but man does it add something)
pinch fresh ground nutmeg
Accompaniment: cubes of French bread; apple slices; mushrooms; parboiled red potatoes or other veggies of your choice.
Rub inside of a 4-quart heavy pot with cut sides of garlic, then discard garlic. Add wine to pot and bring just to a simmer over moderate heat.
Toss grated cheese together with cornstarch. Gradually add cheese to pot and cook, stirring constantly in a zigzag pattern (not a circular motion) to prevent cheese from balling up, until cheese is just melted and creamy (do not let boil). Add kirsch and stir in. Bring fondue to a simmer and cook, stirring, until thickened, 5 to 8 minutes. Mix in ground nutmeg.
Transfer to fondue pot set and serve with dipping accompaniments.
Now that takes care of the main course. But … is there a better way to end a meal, romantic or not, than with something chocolate? Wait. Don't answer that. But seriously – a little sweet cocoa delight puts a solid exclamation point on an evening. This recipe, adapted from one from Tyler Florence, is delicious – and better yet, it's adaptable to suit your tastes.  I like to use Kahlua, but any liqueur or flavored syrup work well.
Chocolate Fondue

Print This Recipe
Ingredients:
8 ounces dark chocolate, broken in pieces
8 ounces semisweet chocolate, broken in pieces
1 cup whipping cream
1/2 cup caramel topping
3 tablespoons flavored syrup or liqueur
Place all ingredients in fondue pot over low heat. Stir constantly until the mixture is melted and smooth. Do not allow to bubble. Great foods for dipping in the fondue include strawberries, bananas, apples, grapes, cherries, bite-sized pound cake pieces and marshmallows.
Fondue. Easy. Romantic. Delicious. So what are you waiting for – go get to dipping!
Photo Credit: Edgar Zuniga Jr. / Flickr