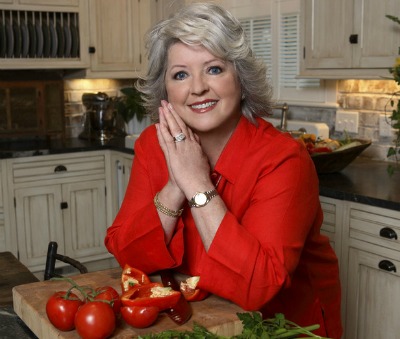 Paula Deen told Today that she doesn't plan on changing the way she does her show just because she has Type 2 diabetes, and I for one applaud that.
I don't watch any of Deen's shows to find out how I can lose weight and look like a Men's Health cover model. I tune in to see how she cooks rich foods. I could stand to lose a few pounds and I take high blood pressure medication, but eating some of what Paula Deen cooks on her TV shows isn't going to harm me unless I eat them all of the time.
Did Deen preach "moderation" like she's been saying in recent interviews? I don't know. I didn't watch her show that closely and I'm not going to do a Lexis-Nexus search for the keywords "Paula Deen" and "moderation." But I am sure she didn't say "eat this stuff for every single day of your life." I think that television creates this illusion of steadiness and consistency that really doesn't exist. Meaning, because Deen is on our televisions every single day that means that she eats this stuff every single day and she's hoping we do too. But if she had a monthly show or quarterly specials we probably wouldn't say that she's "pushing" this lifestyle and this type of diet.
I can't say that the food that Deen cooks on the show didn't contribute to her diabetes, but no one can honestly say that she ate the stuff morning, noon, and night and that's why she's overweight and that's why she has diabetes, no doubt whatsoever. Diabetes is a complex thing, and heredity and a sedentary lifestyle contribute to it just as much as being overweight (good thing Wikipedia is back so I can look this stuff up!). I know three people with Type 2 diabetes, and all three of them are skinnier and in better shape than I am. I know about a dozen really, really fat people, and none of them have diabetes and their blood pressure is fine. Anecdotal evidence? Maybe. But like I said, diabetes is a complex thing.
Anthony Bourdain has been on Deen's case way before her diabetes reveal, calling her "the most dangerous woman in America" because of the way she cooks. I could name 37 females on reality TV that are more dangerous, but that's beside the point. A lot has been made of the infamous episode where Deen put a burger between two glazed doughnuts. Yes, she was saying that you should eat this every single day. People are so stupid.
I contend that if you hate the way that Paula Deen cooks, in a way you hate America.
Being preached a healthy life style from someone who goes around the world eating warthog rectums and sheep testicles is something I never thought I'd experience. Bourdain is making a cottage industry out of insulting other people who cook stuff he doesn't approve of. First Rachael Ray, then Sandra Lee, now Deen (he insulted Emeril Lagasse and Guy Fieri somewhere along the way too, so you can't say he's a sexist). I'd rather eat at the home of either Lee or Deen than Bourdain's home (though he's a better writer than either of them). As the old saying goes, diabetes is better for you than sheep testicles.
I mean, does the guy even cook anymore?
If Paula Deen wants to use the word moderation more and tweak her show a little bit to make things healthier, that's great. If her sons want to come out with cookbooks that preach a healthy lifestyle, that's great too. If she wants to take a diabetes medication and exercise more, no one's going to say that's a bad thing. But to say that she's a hypocrite or scheming if she continues to make high-fat meals on her show and at the same time push a diabetes drug just doesn't make any sense. And the fact that she waited three years to reveal it to her fans doesn't bother me a bit. A lot of people have secrets in their lives that they hold on to tightly because they're not ready to reveal it, for personal and yes (gasp!) professional reasons. I don't know if she didn't tell anyone because it would somehow interfere with her career, but even if she did, so what? It would be weird if she didn't keep it secret, wouldn't it?
Should an alcoholic be barred from being a bartender? Maybe for his personal physical and mental health, but just because an alcoholic is a bartender doesn't mean he's preaching alcoholism or even potential alcoholism to the customers who come into the bar. That's up to them (and this is where people accuse me of comparing alcoholism with diabetes, which both misses and confuses the point all at the same time — congratulations!).
Every single cook on television, from Julia Child to Graham Kerr to Guy Fieri, has cooked food that one could call "unhealthy." But I contend that they're aren't any "unhealthy" foods if you don't eat them all the time.
Except warthog rectums. That stuff will kill you.
Photo Credit: Food Network