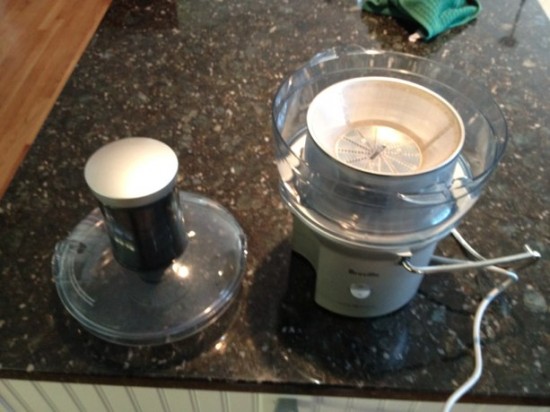 I'll be first to admit that juicing may not be for everyone. No, I'm not referring to the use of steroids, you fool. I'm talking about taking whole vegetables and fruits and throwing them in a machine that grinds them up, leaving you with the pulp at one end and just the juice at the other. Deb and I started juicing about seven or eight years ago, and we'd sort of just stopped or forgot about it for the past three. We decided to pick the habit back up again for several reasons. For one, that caffeine-free jolt of energy we used to get from juicing was gone, and we wanted that back again. More importantly, though, was that I noticed that when I was juicing years ago, I never got a cold. I mean never. Then, in the past few years, I just kept getting damned colds all fall and winter long, and I was sick of it. "Gee, I used to never get sick years ago. What happened?" I thought. "Oh yeah, I used to juice and now I don't." Time to break out the Juiceman again.
For years Deb and I have used what I thought to be one hell of a great juicer, the Juiceman. And it was great, for the many years we used it. Then, as we started once again to use it daily this year, it pretty much died on me. I threw one too many carrots in the thing, and the whole thing kicked like a wild bronco, threw the juice and pulp container everywhere — even to the ceiling — and smelled a bit like something inside was burning. Not good. It was obvious the little champ had outlived its lifespan and it was time to kick things up a notch.
After a little research — mostly based on reviews on Amazon.com product pages — I decided to give the highly-rated and reasonably-priced Breville juicer a go. Initially I was looking into the possibility of getting a masticating juicer rather than a centrifugal juicer like the Juiceman. This was because I really like to throw a lot of dark, leafy greens into the machine, and a masticating juicer reportedly works better with that sort of thing. Rather than using a fast-spinning grater to tear the leaves apart for juice, leaving perhaps too much waste in the end, a masticating machine takes out a whole lot more juice out of even barley grass that you put into it. The biggest drawback, though, is that you have to cut up your material so small that it's quite a pain to use regularly. If you want to throw full carrots and apples into a machine in one go, you need a centrifugal machine.
The first thing I'll say about the Breville is it's a work of art. As soon as I took it out of its box, I could tell this baby was going to last us a lifetime. It feels solidly built and couldn't be simpler to assemble. In fact, it has one fewer piece than the Juiceman, and there are really no areas at all where unseen juice might seep into or hide from even a vigorous dishwasher. The grating basket even has one additional feature my Juiceman didn't have, with dual blades at the center to give your veggies a good initial dicing before letting the graters do their job.
After a thorough washing of all the parts, I couldn't wait to give this thing a try. Turning it on for the first time was sweet music. The 700W motor kicked in and was practically singing a song of "FEED ME," begging for me to toss in even the heaviest vegetables and fruits. Unlike the Juiceman, the feeding tube on the Breville is huge. Seriously, you can fit a whole apple into the tube without needing to cut it, and, of course, I did. The machine barely made a wimper as it annihilated the entire apple in about a second, and the provided juice container quickly showed the glorious results. The Breville would have laughed at me if it could, as I tossed in carrot after carrot that disappeared into orange fibers and liquid as quickly as if I'd have fed it to a famished horse. Whereas the entire juice would have taken me five minutes to complete with the Juiceman, the Breville completed the task on one.
The dream didn't end there. Cleanup couldn't be easier. As I said, there are very few if any crevices in the pieces of the machine, so you can practically rinse the pieces out without much scrubbing if any at all. The metal basket certainly needs cleaning, and there's even a provided brush to make that task all the easier and safer for you. Everything is kept so separate from the main base unit that it's kept squeaky clean after every use, nary a drop ever having touched it. Also, of course, all of the pieces — save the motor unit — are dishwasher safe.
Now, some who herald the benefits of a masticating juicer may have a point in that it makes far less waste than a centrifugal unit, though, admittedly, I have no experience with one to know for certain. However, if you're one to composte your veggie and fruit discards all the time as we do, it's pretty difficult to feel at all guilty about any sort of waste going on. That stuff is going to make composte that your gardens and plants will love, which gets you better plants that take less to take care of from commercial products. It's all a win-win.
Alright, so not such a "quick" review, but I think you see now that I'm giving the Breville Juice Fountain high praise here and give it the CliqueClack seal of approval. Let us know if you want us to highlight more of the benefits we've seen from juicing here on CliqueClack Food, and we'll make a point of it!
Photo Credit: Keith McDuffee/CliqueClack