Allison Janney tackles a tough subject in WIGS short Celia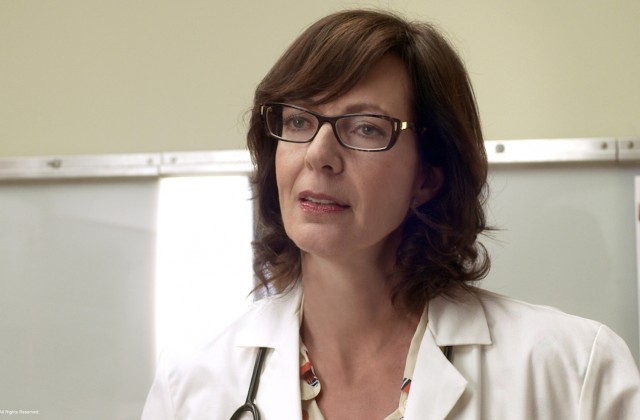 The 'West Wing' star addresses women's rights in the new web-only short, and talks about her interest in projects with purpose.
As White House Press Secretary C.J. Cregg on NBC's The West Wing, actress Allison Janney played a very strong woman. Today, in the new web drama Celia, she's a doctor dealing with a situation that would challenge even the strongest lady.
Part of the WIGS line of YouTube original programming, Celia sees the title character (Janney) surprised when her friend's teenage daughter Hannah (Dakota Fanning, The Twilight Saga, Steven Spielberg's Taken) appears in her exam room and says that she's seeking an abortion. What's more, Hannah hasn't told the father of the child or her own mother – a longtime friend of Celia's – about her intention to terminate the pregnancy. Celia must decide how to advise Hannah, and if she informs the seventeen-year-old's parents about their daughter's situation.
In a recent phone interview, Janney explained that her work in projects like Celia and The West Wing is her way of "being political without being political" — choosing projects that have something to say. In the case of Celia, the scene prompts a discussion on women's reproductive rights — specifically those of teenagers — without providing a 'right' or 'wrong' answer.
Beyond Celia's message, there were also things that intrigued Janney about the project from an artistic point of view. She said that she wanted to work with her co-star, Dakota Fanning (The Twilight Saga, Steven Spielberg's Taken), and appreciated the fact that the piece focused solely on their two characters. Although Hannah's mother is referenced, only she and Celia appear in the piece written and directed by Rodrigo Garcia (In Treatment).
Unlike many of the previous WIGS pieces, Celia is a short film, not episodic – there's only one installment, and viewers are dropped immediately into the situation between Celia and Hannah, which takes place entirely within the confines of the exam room. It's an efficient and yes, thought-provoking piece of storytelling.
In addition to her work on Celia, Janney and several of her West Wing colleagues, including Martin Sheen, Bradley Whitford, Janel Moloney, Richard Schiff and Joshua Malina, recently reunited in-character for a "Walk and Talk the Vote" PSA to encourage voting on the nonpartisan section of the ballot in November and support Bridget Mary McCormack (sister of West Wing and In Plain Sight star Mary McCormack) for the Michigan Supreme Court. It's an affectionate nod to the many "walk and talk" scenes popularized by Aaron Sorkin's TV series, while getting out an important message about voting. (You can view the PSA here.)
The Emmy-winning, Tony-nominated actress also appeared in Sorkin's Studio 60 on the Sunset Strip and said she wouldn't rule out a guest spot on his current show The Newsroom; in fact, she was approached about appearing in the show's first season, but things didn't quite come together.
The year before The West Wing, Janney had a supporting role in the 1998 flick The Object of My Affection as Constance Miller, the second wife of Sidney Miller (Alan Alda) and stepsister to Nina (Jennifer Aniston). Playing Alda's wife was an interesting experience for her, she explained, because she had gone to school with Alda's daughter Elizabeth. Alda would later appear on The West Wing as the recurring character Arnold Vinick.
Celia is the latest of the WIGS series, which focuses on providing web series aimed at a female audience, and has attracted a sizeable list of TV and film talent. Past WIGS series have included Georgia, starring Mary Elizabeth Ellis and Harold Perrineau, Lauren featuring Troian Bellisario (Pretty Little Liars) and Jennifer Beals (The Chicago Code), and Serena with Jennifer Garner and Alfred Molina.
Celia premieres today on the WIGS YouTube channel. You can check out the trailer in the video below, which also includes the final episode of Maura Tierney's WIGS series, Ruth & Erica.
Photo Credit: WIGSCO, LLC