Blood and Chrome did a poor job setting up a TV series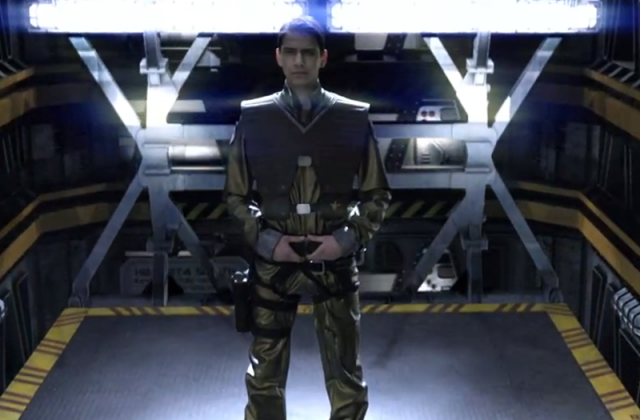 'Battlestar Galactica: Blood and Chrome' was originally intended to launch a series. After seeing the final product, I understand why SyFy wasn't interested.
Ever since Battlestar Galactica: Blood and Chrome was officially announced back in October of 2010, I've been awaiting its premiere with a great deal of anticipation. I was a big fan of Ron Moore's remake; it actually had a great deal to do with my involvement with CliqueClack in the first place. But like many other BSG fans out there, I was very disappointed when SyFy announced that B&C wouldn't be taken to series. After watching the movie/show/webisode that wrapped up this past week, I'm not really surprised that we won't be seeing more of young Bill Adama's exploits.
I'm not really surprised that we won't be seeing more of young Bill Adama's exploits.
Don't get me wrong, I actually enjoyed Blood and Chrome a great deal. I thought that the story made for a great reintroduction to the BSG mythos. I've always thought it pretty difficult to tell an interesting prequel-esque story, and B&C 's setting between BSG and Caprica would make that an even more difficult task. Plus, Luke Pasqualino did a serviceable job as Adama, especially considering the rather massive boots he was trying to fill. But creating a good movie set in the BSG universe is one thing; creating one that sets up a series is an entirely different thing.
In this regard, it's difficult to separate Blood and Chrome from the BSG mini-series; they were both serving the same general purpose. It might not be a fair comparison, but that's kinda the point, no? The mini-series did a wonderful job at recreating a world for die-hard fans of the original series, as well as introduce things to fans like me, who had either a passing familiarity with the original, or none whatsoever. The plot served a great deal of that but, as Ron Moore was always wont to say, it was "the characters, (stupid)" that drove BSG even from the earliest moments.
Even before the finale, it was apparent that Blood and Chrome largely ignored that tradition. The finale solidified that problem. The story, from start to finish, only focused on three central characters: Adama, his ECO Coker Fasjovik, and Dr. Beka Kelly. The Galactica itself is barely seen in the story, as were all of the characters on The Bucket (or whatever the ship's nickname was during the first Cylon War). When the story comes to an end, one of those three characters was dead – and not who we thought she was anyways (and for a couple of moments we are lead to believe Adama would be the only thing we'd be taking from B&C into a hypothetical series).
Hell, with the exception of Adama and Coker … and the Galactica crew – more on them in a moment – pretty much every character we spent any meaningful time with was dead by the time the credits rolled. Marine Tech Sgt. Toth? Gone. Other recognizable faces like Commander Ozar and her XO (Jill Teed and Ty Olsson, who played Sgt. Hadrian and Lt. Kelly in BSG)? Also dead. Jim Kirby and his incredibly wasted cool connection to the also-a-pilot character Sebastian Spence played on BSG (Narcho)? Dead, dead dead.
I would much rather the show have focused on introducing the characters that would actually show up in the series.
If your intention is to set up a new series, don't you think you should introduce some characters that might actually be a part of it? The other pilots on the Galactica are the obvious candidates; the actors are all recognizable enough that they were probably intended to be brought on board the series: Mike Dupod (BSG, Stargate: Universe), Karen LeBlanc (Defying Gravity), Terry Chen (Combat Hospital) and Carmen Moore (Caprica, Artic Air). Plus the guy playing the Commander, Brian Markinson also appeared in Caprica … and if his IMDb page is to believed, pretty much everything ever. B&C might have had a pretty good story, but I would much rather the show have focused on introducing these (hopefully compelling) characters such that fans are demanding more of the series for a reason other than the fact that it's Battlestar Galactica.
The way things are now, things don't look particularly good for more Blood and Chrome. It will air on SyFy as a two-hour movie early next year, with a Blu-ray and DVD release following not far behind. As a dutiful fan, I'll probably consume all that I can, watching on SyFy and picking up the Blu-ray on release date. Sadly, though, I'll always look at Blood and Chrome as a let down. A solid effort at telling a great story set in the Battlestar Galactica universe, but a failure at launching a series.
[easyazon-image align="none" asin="B00A3718IS" locale="us" height="160″ src="http://ecx.images-amazon.com/images/I/61yNO814WPL._SL160_.jpg" width="128″] [easyazon-image align="none" asin="B002ZCY872″ locale="us" height="160″ src="http://ecx.images-amazon.com/images/I/51IOWVXsZfL._SL160_.jpg" width="115″] [easyazon-image align="none" asin="B0036EH3U2″ locale="us" height="160″ src="http://ecx.images-amazon.com/images/I/516D6fC9mzL._SL160_.jpg" width="155″]
Photo Credit: Machinima Prime