The Expendables blast their way onto DVD and Blu-ray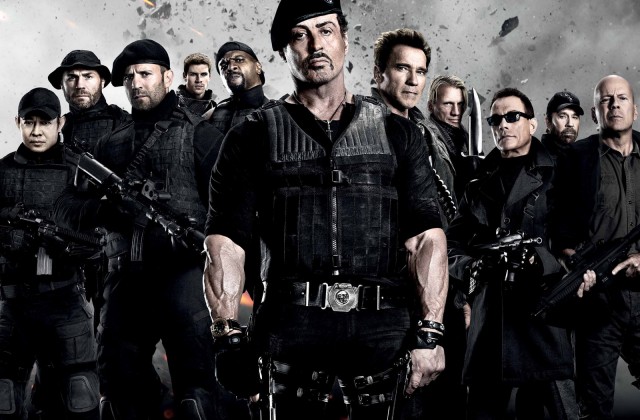 DVD and Blu-ray releases for November 20 include 'The Expendables 2,' 'Tarantino XX,' 'Santa Paws 2,' 'Heaven's Gate,' classic film collection box sets, and more!
It's a slow new release week for movies with only The Expendables 2 leading the charge. Disney is bringing Cinderella out of the vaults again, along with a double feature of its two direct-to-video sequels. But with the holidays rapidly approaching, there are several classic film box sets getting a reprice for the gift giving season. What better gift for the movie fan in your life? To see what else, new and old, is coming out on November 20th, take a look at our handy gift giving guide and click on a link to make a purchase or to get more information.
[easyazon-image align="none" asin="B009MF56GC" locale="us" height="160″ src="http://ecx.images-amazon.com/images/I/61ITPS1w4PL._SL160_.jpg" width="139″]
The Expendables 2
DVD
Blu-ray
[easyazon-image align="none" asin="B009B0OG1O" locale="us" height="160″ src="http://ecx.images-amazon.com/images/I/51Sis5TSahL._SL160_.jpg" width="136″]
Tarantino XX
8-Film Collection
Blu-ray
[easyazon-image align="none" asin="B008XEZXRA" locale="us" height="160″ src="http://ecx.images-amazon.com/images/I/51DyxO5T9KL._SL160_.jpg" width="124″]
Grave of the
Fireflies
Blu-ray
[easyazon-image align="none" asin="B009MB8Z5A" locale="us" height="160″ src="http://ecx.images-amazon.com/images/I/51i-NXTgcYL._SL160_.jpg" width="120″]
Dragons:
Riders of Berk
DVD
[easyazon-image align="none" asin="B0098466MU" locale="us" height="160″ src="http://ecx.images-amazon.com/images/I/51eUm%2BCaIzL._SL160_.jpg" width="130″]
Alter Egos
DVD
[easyazon-image align="none" asin="B008UTV4VM" locale="us" height="160″ src="http://ecx.images-amazon.com/images/I/51wBPxhFXuL._SL160_.jpg" width="113″]
Bringing Up Bobby
DVD
[easyazon-image align="none" asin="B0091JJ1SS" locale="us" height="160″ src="http://ecx.images-amazon.com/images/I/51owtMenbyL._SL160_.jpg" width="113″]
Darklands
DVD
[easyazon-image align="none" asin="B009I6V8TY" locale="us" height="160″ src="http://ecx.images-amazon.com/images/I/51O2%2BSV7EdL._SL160_.jpg" width="126″]
Judas Kiss
Blu-ray
[easyazon-image align="none" asin="B009E3EX66″ locale="us" height="160″ src="http://ecx.images-amazon.com/images/I/51mpyfc-lNL._SL160_.jpg" width="112″]
Black Magic
DVD
[easyazon-image align="none" asin="B003ZHVJGO" locale="us" height="160″ src="http://ecx.images-amazon.com/images/I/51hxpUVMPML._SL160_.jpg" width="113″]
Cinderella
DVD
[easyazon-image align="none" asin="B008BRC5WA" locale="us" height="160″ src="http://ecx.images-amazon.com/images/I/6185NLtxyyL._SL160_.jpg" width="127″]
Cinderella II: Dreams Come True /
Cinderella III: A Twist In Time
DVD
Blu-ray/DVD Combo
[easyazon-image align="none" asin="B008C0C23I" locale="us" height="160″ src="http://ecx.images-amazon.com/images/I/516lTllH8hL._SL160_.jpg" width="126″]
Santa Paws 2:
The Santa Pups
DVD
Blu-ray + DVD Combo
[easyazon-image align="none" asin="B009ANP24C" locale="us" height="160″ src="http://ecx.images-amazon.com/images/I/51wVrVZKWfL._SL160_.jpg" width="126″]
The Trap
DVD
Blu-ray
[easyazon-image align="none" asin="B0097RU3EA" locale="us" height="160″ src="http://ecx.images-amazon.com/images/I/51gCLIqavGL._SL160_.jpg" width="127″]
Ramrod
DVD
Blu-ray
[easyazon-image align="none" asin="B0090XG9T4″ locale="us" height="160″ src="http://ecx.images-amazon.com/images/I/51go7FvVw7L._SL160_.jpg" width="108″]
That's Entertainment:
Trilogy Giftset
Blu-ray
[easyazon-image align="none" asin="B009X919UE" locale="us" height="160″ src="http://ecx.images-amazon.com/images/I/51qRZYwJ%2B6L._SL160_.jpg" width="110″]
Pitfall
DVD
[easyazon-image align="none" asin="B008NNSBQ6″ locale="us" height="160″ src="http://ecx.images-amazon.com/images/I/51IiP6HU7rL._SL160_.jpg" width="113″]
Puppet Master II
DVD
[easyazon-image align="none" asin="B008NNSE1I" locale="us" height="160″ src="http://ecx.images-amazon.com/images/I/616-e74nhUL._SL160_.jpg" width="138″]
Puppet Master III:
Toulon's Revenge
Blu-ray
[easyazon-image align="none" asin="B00917IQCM" locale="us" height="160″ src="http://ecx.images-amazon.com/images/I/51XiZFdt3UL._SL160_.jpg" width="124″]
The Pete Walker
Collection
Blu-ray
[easyazon-image align="none" asin="B0090XK9FO" locale="us" height="160″ src="http://ecx.images-amazon.com/images/I/51Y%2Bu-v63CL._SL160_.jpg" width="113″]
The Complete Thin Man
Collection
DVD
[easyazon-image align="none" asin="B0090XPGUM" locale="us" height="160″ src="http://ecx.images-amazon.com/images/I/5158TypqWXL._SL160_.jpg" width="113″]
Myrna Loy & Williams
Powell: Collection
DVD
[easyazon-image align="none" asin="B0090XPGU2″ locale="us" height="160″ src="http://ecx.images-amazon.com/images/I/51pPcIvMNNL._SL160_.jpg" width="113″]
Lucille Ball
Film Collection
DVD
[easyazon-image align="none" asin="B0090XO586″ locale="us" height="160″ src="http://ecx.images-amazon.com/images/I/51ZNeTybQnL._SL160_.jpg" width="113″]
Bette Davis Collection 3
DVD
[easyazon-image align="none" asin="B0090XJJS2″ locale="us" height="160″ src="http://ecx.images-amazon.com/images/I/51nXGQHz1QL._SL160_.jpg" width="113″]
Katharine Hepburn & Spencer
Tracy: Signature Collection
DVD
[easyazon-image align="none" asin="B0090XLDMW" locale="us" height="160″ src="http://ecx.images-amazon.com/images/I/41Ud1tP%2BelL._SL160_.jpg" width="113″]
James Stewart:
Signature Collection
DVD
[easyazon-image align="none" asin="B0090XJJR8″ locale="us" height="160″ src="http://ecx.images-amazon.com/images/I/51O7rBJ-RzL._SL160_.jpg" width="113″]
Elizabeth Taylor & Richard
Burton Film Collection
DVD
[easyazon-image align="none" asin="B0090XMMI6″ locale="us" height="160″ src="http://ecx.images-amazon.com/images/I/51c%2BfKxyI-L._SL160_.jpg" width="126″]
Warner Home Video Western
Classics Collection
DVD
[easyazon-image align="none" asin="B0090XJJSM" locale="us" height="160″ src="http://ecx.images-amazon.com/images/I/51TiD9OF5gL._SL160_.jpg" width="113″]
Leading Ladies
Collection 2
DVD
[easyazon-image align="none" asin="B0090XK9EU" locale="us" height="160″ src="http://ecx.images-amazon.com/images/I/51MDIPN107L._SL160_.jpg" width="113″]
The Marx Brothers
Collection
DVD
[easyazon-image align="none" asin="B0090XLDO0″ locale="us" height="160″ src="http://ecx.images-amazon.com/images/I/51D1M%2B1QQ8L._SL160_.jpg" width="113″]
Agatha Christie's Miss
Marple: Movie Collection
DVD
[easyazon-image align="none" asin="B0083TS7UU" locale="us" height="160″ src="http://ecx.images-amazon.com/images/I/51QHIHm9eCL._SL160_.jpg" width="113″]
The Captain's Table
DVD
[easyazon-image align="none" asin="B00917IQEU" locale="us" height="160″ src="http://ecx.images-amazon.com/images/I/510jcQ5JMPL._SL160_.jpg" width="113″]
Schizo:
Remastered Edition
DVD
[easyazon-image align="none" asin="B0091JJ1AG" locale="us" height="160″ src="http://ecx.images-amazon.com/images/I/51y4B7gwEdL._SL160_.jpg" width="113″]
Mark Of The Devil:
Yack Pack
DVD & Vomit Bag
[easyazon-image align="none" asin="B008Y5OWMK" locale="us" height="160″ src="http://ecx.images-amazon.com/images/I/51gnld6EndL._SL160_.jpg" width="129″]
Heaven's Gate
(Criterion Collection)
DVD
Blu-ray
[easyazon-image align="none" asin="B008Y5OXDI" locale="us" height="160″ src="http://ecx.images-amazon.com/images/I/41%2B3j%2BevhBL._SL160_.jpg" width="123″]
Eclipse Series 37:
When Horror Came to Shochiku
DVD
Photo Credit: Lionsgate