Graceland delivers a big twist, but do we know the real story?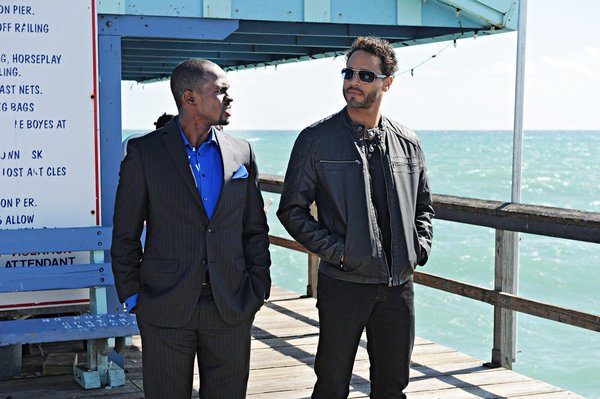 USA's had been promoting last week's 'Graceland' as game-changing. It was a great twist, but is Odin really who we think he is?
USA's Graceland has been one of the few new shows this summer I've been able to latch on to this year (Under the Dome and Orange is the New Black are the others, but I'm still not sure how to classify anything from Netflix). According to USA's corporate messaging, the undercover cop drama indicates the beginning of a shift to telling more serious (read: darker) stories. Don't get me wrong, I love shows like Suits and Covert Affairs – well, less this season in the latter's case – but I think this type will be good for the network (and great for viewers whose names rhyme with Tivey Pest).
In the spirit of this new direction, Graceland delivered a "game-changing" twist in this week's episode "Goodbye High." (Spoiler alert: turn back now if you haven't yet seen the episode) We finally learn that Odin, the shadowy drug-dealer who is the subject of Charlie's investigation, is actually friendly neighborhood FBI agent Paul Briggs. We've had reason to suspect Briggs of something since the pilot; the secret investigation by new kid on the block Mike Warren has been one of the main plot arcs of the show thus far.
The twist is perfectly timed. Early in the episode, Briggs had apparently bared his soul to Mike. Early in his tenure as an agent, he'd gone against orders to follow a lead into Mexico. He was captured by the cartel, but instead of being tortured and killed, his captors turned him into a heroin junkie and set him free. To keep his job, Briggs kept his addiction a secret from the FBI and his friends, and got clean. Hearing all of this, Warren – who had always doubted Briggs' guilt – went to his control officer Juan and made a case for getting Briggs the help he needs.
But Briggs' entire story was turned on its side when he revealed himself to Bello. Everything Juan had been selling to Warren turned out to be true; Briggs wasn't the great, wonderful mentor that the fresh-out-of-Quantico FBI agent believed in. Frankly though, I'm not so sure that I believe what we are supposed to believe at this point. It's not that I have a problem with a show delivering a twist that means one of the two lead characters is actually an antagonist, but I think there is a ton of circumstantial evidence that Briggs' new truth isn't the whole truth.
It is a ballsy move to take the actor who appears first in the credits and turn his character into the antagonist halfway through the first season.
First, as much as USA might be shifting their cultural identity, it still is a ballsy move to take the actor who appears first in the credits and turn his character into the antagonist halfway through the first season. Certainly not completely unbelievable, but I think it is a bit of a stretch in this case.
There's obviously much more to Briggs' flashback story than was revealed in this one episode. We learned about his training officer Roberto, who was apparently as deep in the cartel as one could get. We also learned about Jangles, the man who facilitated Briggs' journey into junkiedom. These two men looked a great deal like each other, and we never saw the latter's face … a dead giveaway in my book.
Finally, one of central themes of Graceland thus far has surrounded secrets: keeping them, breaking them, who and who not to share them with. Who you can trust with something and when you can trust them with something are questions that we've seen explored through Charlie's story, through Briggs' story and most consistently through Mike and Abby's story.
Keeping those three things in mind, I don't think it is a reach at all to think that there is much more going on with Briggs/Odin than meets the eye. I've not yet sussed out what I think it is yet, but the most obvious is that Odin is just a deep cover for another investigation, one that Juan and other members of the FBI might be compartmentalized out of. Is he trying to save Roberto? Or is he working with Roberto to help take down the cartel completely?
Or have I completely got this backwards, and Briggs has simply been successful at playing everyone, including the audience? Regardless of how this plays out, I'm a fan of how the story has played out thus far. This potential second twist is admittedly more safe than making Briggs an actual bad guy, but I think you can only follow that road so far until he has to be written off the show, else you make the good guys look really, really stupid (see: Following, The).
[easyazon-image align="none" asin="B0079IEPHA" locale="us" height="160″ src="http://ecx.images-amazon.com/images/I/41JvfyAt7yL._SL160_.jpg" width="107″]  [easyazon-image align="none" asin="B00BD6KPFU" locale="us" height="160″ src="http://ecx.images-amazon.com/images/I/41k4HwKb4cL._SL160_.jpg" width="107″]  [easyazon-image align="none" asin="B0079IEPHK" locale="us" height="160″ src="http://ecx.images-amazon.com/images/I/41cEak8UdcL._SL160_.jpg" width="107″]
Photo Credit: USA Network