Haven's adorable cast describes the close of its third season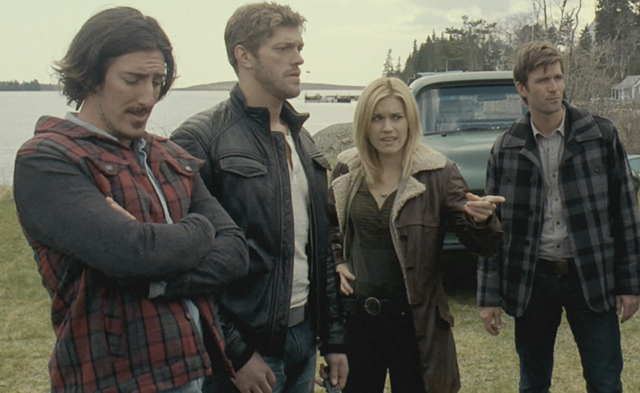 'Haven"s third season is quickly coming to a close. As the next episode airs on January 9th, the cast discusses the almost end of its third season, presents their characters would love and how they're most like their alter-egos.
I love, love, love, love, love the Haven cast. They clearly love each other and that comes across in every single conference call and interview I (and other CliqueClack members) have done with them. There are some actors that are so awesome that you don't even need to interview them. Just put them in a room with each other and press record. The Haven cast are a walking, talking carnival act with Eric Balfour at the helm as the unofficial spokesperson. Adam Copeland might be new to the squad and not as outlandish as the rest of the cast, but he still speaks his mind. With only two episodes left in its third season, this call covered what their characters might want for the holidays and well wishes for the Connecticut families.
"I enjoy chitty chitty bang bang."  – Eric Balfour
At this point, Eric Balfour's a fledgling Bruce Campbell. However, he uses his brazen charm (in place of Bruce's brazen personality) to win over his audience. Like Bruce, Eric's background caters to the sci fi audience. Like Bruce, Eric basically says what he thinks. Like Bruce, Eric loves playing with his audience. He couldn't stop charming the female (and male) writers on the phone. I think we all collectively swooned every time he spoke. Hell, an entire twitter legion swoons everytime he posts to his feed. In answer to one question he kept delaying the answer with prevarications such as "I'm just saying" …  and "I think" and eventually ending with blatantly random responses like "I enjoy chitty chitty bang bang." He only hesitated once regarding another interviewer's question and asked if they wanted the real answer.
What woman wouldn't try to ride Duke's barge pole when given the chance?
What's the perfect Christmas present for Duke? "A Teddy Ruxpin." Isn't it odd that Duke, the lady's man, the man's man, and the man about town, is always alone at night? Eric thinks so. What makes Duke and Eric similar? Well, other than their daredevil charm, according to Eric, they have striking facial features, but "Duke's nose is bigger." Once again, I love Balfour's wit, self-deprecating humor (while clearly knowing how pretty he is), and ability to comment on his character and odd script plot holes ('cus, yea, what woman wouldn't try to ride Duke's barge pole if she had the chance?)
Balfour likes the "beautiful dance" between Audrey and Duke.
He's against an Audrey-Duke hookup. He likes the "beautiful dance." Like Emily stated in NYCC, he feels people don't want what they get. But, unlike Lucas Bryant, he's an advocate for bringing characters together and ripping them apart. He admitted parts of the show are "cruel" but is really excited for the coming two episodes and discussed Duke becoming a "man."
The reason I call Balfour the unofficial spokesperson is because he covertly served as Emily Rose's ID. Whenever Emily wanted to say something, but wasn't quite certain about phrasing it, she handed the question off to Eric who basically stated it outright. I noticed this in our last conference call and NYCC interview as well. How is she like her character? Emily stated she's prickly when getting to know people,like Audrey.
During the call, Adam discussed the initially temporary nature of his character. Originally the producers hadn't  intended Dwight as a series regular. But, he did such an awesome job, of course they had to bring him on. Dwight's backstory isn't yet fleshed out. But, he sees the Haven gang as the Avengers. And, he's right, when you think about it. Audrey's definitely the Black Widow. As he stated before he loves working with the Teagues brothers and the talents of the individual actors, Richard Donat and John Dunsworth. We'll definitely see what's going on with Vince and Dave in the coming weeks.
Haven returns to SyFy on January 9th. Don't miss the final episodes of the third season!
[easyazon-image align="none" asin="B004SMDJ9U" locale="us" height="160″ src="http://ecx.images-amazon.com/images/I/51eSy3D%2Bi9L._SL160_.jpg" width="112″][easyazon-image align="none" asin="B008H1Q61G" locale="us" height="160″ src="http://ecx.images-amazon.com/images/I/51WNrIaEQ5L._SL160_.jpg" width="119″][easyazon-image align="none" asin="B000AV6RM4″ locale="us" height="131″ src="http://ecx.images-amazon.com/images/I/515qQsbgoDL._SL160_.jpg" width="160″]
Photo Credit: SyFy