Does Patrick Jane's list point out Red John?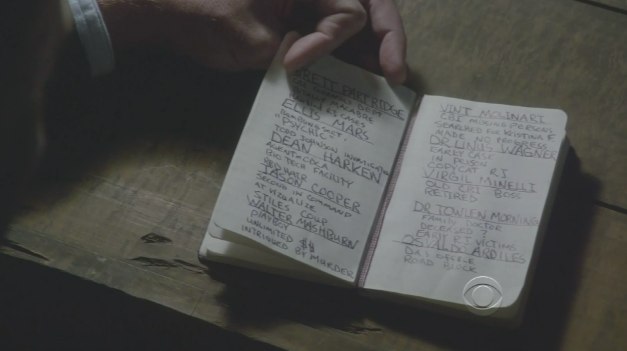 In the latest episode of 'The Mentalist', we get a nice close-up of Jane's notebook of … I guess people he's shaken hands with. And lookee who's at the top.
You may recall that I'm a huge supporter of the idea that Patrick Jane himself is Red John. I won't get into that again here, because it can be a long conversation that sometimes upsets a lot of long-time Mentalist fans. Something else I'd gotten into at one time was my second-favorite theory about Red John: that he is forensics investigator Brett Partridge. Now, as you can see from the above image, it seems Partridge is on Patrick Jane's radar as a person he's met in the past (more specifically, someone he apparently shook hands with, as Lorelei Martins seemingly let slip out last week).
So, as I usually do when the thought of Brett Partridge coming back to the show comes up, I contacted actor Jack Plotnick for comment. Here's how the basic back-and-forth went:
Me: Did you happen to catch what was written on Patrick Jane's notebook at the end of the most recent episode? So NOW do you have any idea if you're getting a call back?
JP: No… WHAT was written on his notebook???!!!!!
Me: Well, Jane is making a list of all the people he's met that he suspects could be Red John, since he now has the hint that it's someone he's met before, or at least "shook hands" with. There's a close-up of his notebook at the end of the last episode, and the first name: Brett Partridge. Did your character shake hands with Jane? I can't remember! So I take it you're still not called back?
JP: Nope, not yet…. Thanks for the heads up!!!!
Revealing? Not at all, really, unless you consider the possibility that Jane's list is completely meaningless and he's not going to pursue it at all, at least this season. Or it could mean that Partridge isn't a contender at all, and the real Red John will show up before we're ever able to get to investigating Partridge. To be honest, I mostly found it very cool that someone we've been suspected as possibly being Red John was noted on the show. I'll just go ahead and think they're shouting out to ol' CliqueClack there … let me think it.
Another name on that list you might notice, one that had come up in the past here, as a possible Red John contender: Virgil Minelli. But where's Gale Bertram?
How about the other names on that list? Any of them strike out to you as very good contenders for being Red John?
[easyazon-image align="none" asin="B003R0MF1W" locale="us" height="160″ src="http://ecx.images-amazon.com/images/I/510veXw-KuL._SL160_.jpg" width="139″][easyazon-image align="none" asin="B002N5N4NA" locale="us" height="160″ src="http://ecx.images-amazon.com/images/I/513NzJXSnvL._SL160_.jpg" width="139″][easyazon-image align="none" asin="B002N5N4NA" locale="us" height="160″ src="http://ecx.images-amazon.com/images/I/513NzJXSnvL._SL160_.jpg" width="139″]
Photo Credit: CBS