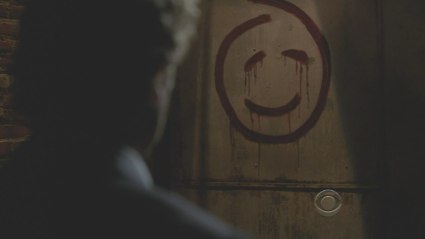 To be honest, I'm not sure if the events in this episode were a clever foreshadowing of sorts, or if the show's writers are playing a game with those of us who believe the theory that Patrick Jane is a schizophrenic who lives a double life as Red John. The elements in this episode that lent support to this theory were almost thrown right in our faces, making me think there's either no way to deny this theory as being more plausible than ever, or that it should be completely wiped off the table. I'm going with the former.
The biggest and most obvious hat-tip was the main San Joaquin Killer story, with Panzer as the killer-in-plain-sight. The notion of a killer keeping himself very close to the investigation of his crimes has come up before in this show, and here it is again. Jane fits that same profile, though I do not believe for a second that he's aware of being Red John, whereas Panzer clearly seems to know what he is and even thrives on it.
There was one moment in the kill room where Panzer comes right out and says something that all but puts the Red John pointer right at Jane: "That kind of duplicity … leading a double life. I don't know how you do that." The piece of owl wallpaper behind Panzer in that scene might symbolize something — like "seeing what is hidden" — but more than likely it was just there to show us that Panzer had been there earlier, so he's clearly the SJK.
Besides those obvious clues, the one thing that seemed to stand out to me was the episode's title — "Blinking Red Light" — and the scene where we see said light. It felt like that blinking light was a symbol for how Jane is able to switch back and forth from himself and Red John. It seemed as though it was right there in our faces, and it even caused Jane to bring up Red John during the interview. It felt as though Panzer was really getting to Jane, and him having to calm himself with a drink of water — and then, later, a visit to Panzer's dressing room — seemed to show Jane somewhat losing his cool. Because Panzer was badmouthing his alter-ego, bringing him to the surface? Maybe something as simple as a calm drink of water symbolizes him making the switch; I'll have to pay attention to that in the future. Simon Baker actually directed this episode, so that was all very purposeful of him.
The whole interview with Panzer was enough on its own to support the theory, and it's one of those scenes we'll go back to look at once the reveal is made some day that Patrick was Red John all along. I don't care if people believe syndication sales would plummet if it was known who or what Red John really is. Have similar reveals caused shows to fail afterwards?
What do you think? Any other signs or symbols I missed?
Photo Credit: CBS