NBC's Dracula nibbles at the legend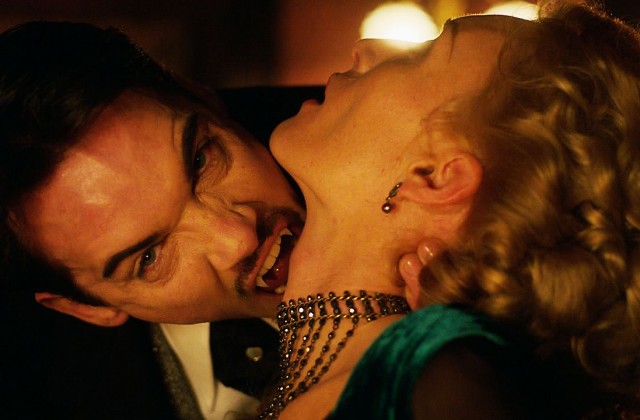 Jonathan Rhys Meyers brings 'Dracula' back to life again on the small screen, but will the changes to the classic story put a stake through the show's heart or grant it eternal life?
As a literary character, Dracula has been around since the publication of Bram Stoker's novel in 1897. Vampires existed in lore prior to that, but Stoker's Count really set the ground rules for vampires from that point on. Bela Lugosi brought the vampire famously to life first on Broadway and then on film in Universal's classic fright fest (which seems rather tame and stagey by today's standards). The Count was redefined once again in 1958 with Christopher Lee's performance, Frank Langella made the role his own, like Lugosi, on Broadway and on the silver screen, and Gary Oldman gave a tour-de-force performance in 1992. There have been many iterations of the bloodsucking count over the past century, and now NBC attempts to breathe new life into the undead creature in the form of sexy, hunky, young Jonathan Rhys Meyers. And he, like those before him, bears little resemblance to the aged monster of Stoker's literature.
In case you aren't familiar with the story, Dracula secures the service of solicitor Jonathan Harker to help with some legal matters involving his move from Transylvania to England (to be among "the teeming millions"). Harker barely makes it out of Transylvania alive, he and Mina Murray are married, Dracula moves into Carfax Abbey, is attracted to Lucy Westenra (who becomes his first victim), turns his sights on Mina once he learns everyone is on to him (thanks to his connection with her), but is destroyed while trying to return to Transylvania. There is also a mental patient, Renfield, who seems to have some kind of psychic connection to the vampire. The new TV series, however, tells a slightly different story.
The new Dracula comes to England, posing as an American businessman, with the promise of delivering wireless energy to the masses. He holds an elaborate party at Carfax Manor to demonstrate his invention, and some of the local oil barons are a bit worried that this could put them out of business. They should be more worried because Dracula, under the assumed name of Alexander Grayson, knows they are all part of the Order of the Dragon, a centuries old group of people who were responsible for the death of his wife and family. What he really wants to do is destroy each and every one of them. At his party, we are introduced to Harker, now a journalist, Mina, Harker's love interest and a medical student who studies under Professor Abraham Van Helsing, Lucy Westenra, a socialite, and Renfield, Dracula's right hand man. While Dracula has a mission to destroy the Order of the Dragon, he also sees that Mina is the spitting image of his beloved wife.
The producers have flipped the script a bit by having Dracula and Van Helsing as allies.
In the first hour, Dracula has already dispatched one member of the Order and has his sights set on another. We're also shown a new twist to the story right from the beginning with Dracula's resurrection by a mysterious man in a large brimmed hat and long coat … who looks, in silhouette, just like Hugh Jackman's version of Van Helsing and turns out to be … Van Helsing! Yes, the producers have flipped the script a bit by having Dracula and Van Helsing as allies, at least at this point in the story. Apparently, the Van Helsings (or just Abraham?) have been working with Dracula for centuries against the Order of the Dragon, but Dracula's impetuous actions are already putting their mission in danger. It's quite a twist and the Dracula purists may find it a bit unpalatable.
The series' production design is sumptuous, keeping the story set in the year of the book's publication.
The pilot episode did a fairly good job of setting up the plot and introducing the characters, but I still get confused as to which woman is Lucy and which one is Mina, and their relationship with Harker (it's even more confusing if you're familiar with the 1979 film). The series' production design is sumptuous, keeping the story set in the year of the book's publication, which allows the whole subplot about the wireless energy seem newfangled and modern at the same time. The sets and costumes are feature film quality, and they are not going to be shy with the blood. The cast is exceedingly attractive, with Rhys Meyers an unconventional choice to play Dracula — perhaps a tad too young — but he puts his wild, piercing eyes to good use. The other cast members have done what they could with their roles, but as this is basically an "origin" episode, not many of them had a chance yet to shine.
The thing that makes Dracula interesting is its 10 week, limited series status. This seems to finally be a trend with the networks this season, after years of success with shorter seasons on the cable networks. CBS had a hit with "limited series" Under the Dome, so much so that it was renewed for next summer, and this season saw Sleepy Hollow, Hostages and Once Upon a Time in Wonderland debut with limited runs (Sleepy Hollow has already been renewed for a second, limited run season). The 10 week order for Dracula means that we should get a story with a beginning, middle and end with just enough threads left dangling to produce a second season. If the show fails, however, at least it won't end on a cliffhanger (and the debut held on to Grimm's audience, so that's a promising start).
The series will succeed or fail on the strength and charisma of Jonathan Rhys Meyers.
I'm intrigued enough by the pilot and the changes made to the classic story to tune in again for the next episode, and I hope that having a limited run will allow the writers to craft 10 excellent episodes. Besides the story, the series will succeed or fail on the strength and charisma of Rhys Meyers. He carried The Tudors for four seasons over on Showtime, even while battling his own personal demons, so it is with great hope that he now has a clear head and will pour all of his energy into making his Dracula the new standard by which all future Dracula's will be judged.
[easyazon-image align="none" asin="B00G7J6G2E" locale="us" height="120″ src="http://ecx.images-amazon.com/images/I/51qvRvRPZsL._SL160_.jpg" width="160″] [easyazon-image align="none" asin="B000TGJ7ZY" locale="us" height="160″ src="http://ecx.images-amazon.com/images/I/51lRhxAHUKL._SL160_.jpg" width="127″] [easyazon-image align="none" asin="B00DNUSG1O" locale="us" height="160″ src="http://ecx.images-amazon.com/images/I/51687tadhDL._SL160_.jpg" width="150″] [easyazon-image align="none" asin="B0002KVULG" locale="us" height="160″ src="http://ecx.images-amazon.com/images/I/51QJNXTQ9PL._SL160_.jpg" width="112″]
[easyazon-image align="none" asin="B00006G8K0″ locale="us" height="160″ src="http://ecx.images-amazon.com/images/I/51BQfhhmdLL._SL160_.jpg" width="133″] [easyazon-image align="none" asin="B000P12LWY" locale="us" height="160″ src="http://ecx.images-amazon.com/images/I/51lSDSWAlgL._SL160_.jpg" width="115″]
Photo Credit: NBC