Why the finale of The Newsroom was terrible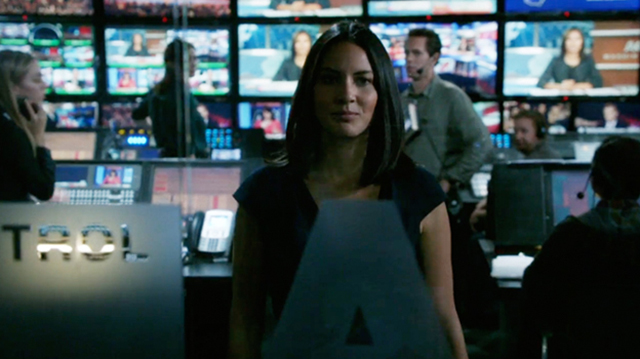 'The Newsroom' didn't have to end badly. That said, it did.
You know, once upon a time I thought the term "hate-watch" was stupid. Until I understood it all too well. But I'm getting ahead of myself.
When I first started watching The Newsroom, I hadn't watched much Aaron Sorkin television, but I thought the promos made the show look interesting. Plus, I had really liked the movies Sorkin had written (A Few Good Men, The Social Network, etc.). So I sat down to see this new show about the news. I must've watched that first episode five times. But it was like a beautiful trainwreck; I couldn't look away. It was the epitome of ridiculousness and pontification, and I found in all the characters varying degrees of smugness and odd characterization. By that I mean that we were often "told not shown," like characters saying, "Will is a great guy" or Will shouting angrily, "I'm affable!" while his actions were actually selfish or otherwise jerkish. But I liked Don; still do, actually, despite the show's best efforts to screw up his character.
 Jeff Daniels in particular, I think, does an excellent job playing a character I'm supposed to like but actually despise.
The weird thing about The Newsroom for me is that I enjoy it in multiple ways. Part of it is the over-the-top "if this was a comedy I'd laugh" parts that are meant to be serious, and then there are the small elements that I legitimately, unironically enjoy. For example, I like the characters of Lisa, Reese, Don, Sloan, Elliot, and Taylor quite a bit — enough so that I can forgive the parts that aren't written as well. But man, Jim is an arrogant, smug, know-it-all jerk, Maggie is an incompetent monster, Will is a selfish ponce, Mac is suffering from PTSD (hold on, I'll explain later), Charlie is always drunk and belligerent, and Neal is naive to the point of stupidity. This isn't to say that the acting is bad — I think everyone is doing their best with material I believe they all think is golden. Jeff Daniels in particular, I think, does an excellent job playing a character I'm supposed to like but actually despise, and I can appreciate the talent it takes to pull that off (I'm serious).
So I just kept watching, and while some episodes were explosively, spectacularly terrible, others were merely boring or wasted characters or plots I liked. They always gave me something to talk about at the proverbial water cooler (which in this case was a water pitcher). As a matter of full disclosure, I often found that I agreed with some of the positions, but I thought that the show consistently violated the stated maxim to "present the best sides of each argument" instead doing something like this:
Will: So Mister Strawman Argument McRedNeck, I understand you believe the moon is made from green cheese?
Pundit: Yes, I do think that.
Will: Of course, studies have shown you are wrong and I am right. Now tell me more so I can continue to berate you.
So yeah, I don't think the moon is really made of green cheese, but Will just comes off kinda … like an arrogant toerag. In fairness, the show sometimes addresses this, like the lamp-shading in this season finale when Taylor asks Will if he's only calling himself a Republican so he can attack Republicans, or "fake Republicans" as he says. He then proceeds to pontificate some more, saying that being Republican nowadays means he apparently needs to be homophobic and education-phobic. That position is a vast oversimplification of the political landscape. It is certainly true that many pundits and politicians push certain agendas to keep people ignorant and afraid, but to assert that this excuses Will's biased attacks is just invalid. It is also true (in my experience) that there tend to be more "crazy" statements from the Republican side of things in sheer numbers, but the percentages of serious corruption aren't exactly much different. Instead, this sort of story seems less like "the news" and more like "let's get ratings." If it was played that way (realistically), I'd buy into it, especially if it was presented in a way where Will had a problem with reconciling his desire for being liked and ratings with his desire to be a serious newsman. But no, it's just all played like everything they report is news and vitally important. Let's be honest here: it isn't. I like The Daily Show as much as anyone, but I think they actually do a better job of shining a light on less "pop" issues (like the controversies with the first responders).
That said, there were improvements towards making The Newsroom a "good" (not enjoyably bad) show. 
The second season was a mess. What about those cliffhangers from the first season — so is Will's life no longer in danger? I admit that the hacker subplot was stupid, but I'm surprised it was dropped in favor of even more Mac and Will drama. That said, there were improvements towards making The Newsroom a "good" (not enjoyably bad) show. More competence in general, less focus on the "ripped from the headlines" retroactive correction, not as much sexism. Of course, there was still plenty of sexism. And of course, the racism, by which I mean the insidious sort of "white woman's guilt" nonsense that isn't actually progressive at all. Maggie's hair cutting escapade ended with a "meh" instead of the "whoa!" which was promised. If I had written the storyline, I wouldn't cut her hair for one. But the real problem is that the resolution is just another push at the nonsensical "Jim and Maggie" pairing. That's not an interesting way to go. Of course, Sorkin always teases me with his ideas of better shows.
The one where Jim is working with Taylor and ends up being attracted to her while always disagreeing with her, or where Mac and Will have left the show, leaving the less annoying characters to do the news. News Night with Elliot, produced by Don with a later Sloan show is intriguing to me. I also legitimately enjoy the Don and Sloan pairing, which gave the season finale the best 120 seconds by far starting with Sloan discovering the book and then Don giving a killer line. Conversely, there was the terrible running joke about Sloan getting interrupted, which might be funny if it wasn't played so straight for so long it actually seemed just mean (and slightly sexist). I also like the little hints of a vicious and jealous DC ACN group, itching to take down the big dogs. If there is a third season, I'd want to see more of that. But as for this one … it didn't end well.
Photo Credit: HBO
This Post Contains Multiple Pages: 1
2